About Us
We are the only emergency ambulance service in greater Wellington and the Wairarapa, and the only ones in the country who are free.
Get Involved
We are the only emergency ambulance service in greater Wellington and the Wairarapa, and the only ones in the country who are free.
What we do
Our news
40 years and still going strong
40 years and still going strong
16 September 2020
There's a lot to be said of 40 years in the same career and Wellington Free Ambulance paramedic Tor is testament to staying in a job you love.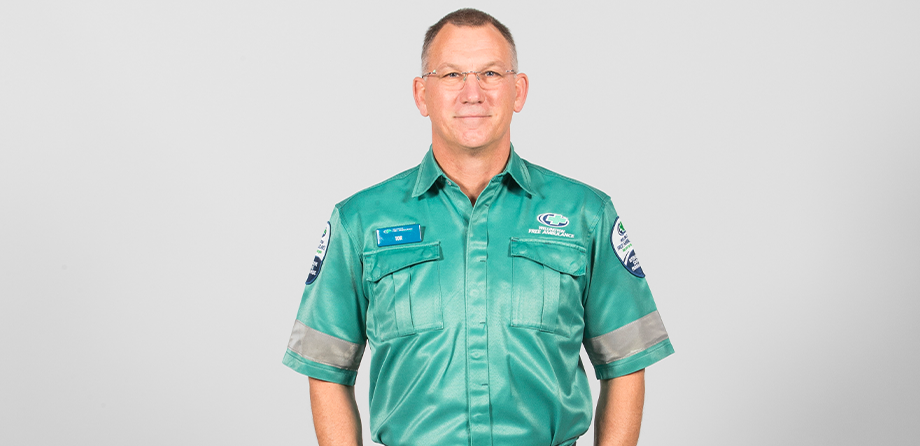 Celebrating 40 years at Wellington Free in September Tor reflects on his long service, saying you've really got to enjoy the job to keep going 40 years in. "I still really enjoy what I do and I am still very passionate about it."
"I'm proud of the job I do and of the work by Wellington Free as we are the only free ambulance service in the southern hemisphere and that makes us unique."
As well as being an intensive care paramedic, Tor is also a graduate preceptor. He says it's the best part of his job and the one he finds most satisfying.
He believes paramedics need to be both confident and competent and this is his goal when mentoring graduates one-on-one for their first months on the road
One of the biggest challenges to any paramedic is confidence "a lot of us struggle with that at different times, most of us are perfectionists and it can affect us when we don't think we did well enough," says Tor.
Being a mentor means role modelling best practice "you really have to reflect on your own practice and what you are teaching as graduates are learning to do things your way."
"You are always presenting the safest way of doing something so they don't take shortcuts as they won't know these are short cuts unless they go wrong.
I enjoy watching them develop as they go from constantly asking for advice and being unsure to telling me what to do. That's when I know they are ready, says Tor.
"You can see they are planning, they know exactly where they are going, what their goal is and they know exactly what they need to achieve.
"It's then you stop teaching and it becomes a partnership, where two people are on the same track and no one needs to be guided."
Tor says the degree programme at Whitireia Polytech has been the best thing for Wellington Free and a contrast to the ambulance officer course he did years ago in Auckland.
"Back then you were taught what effectively was a narrow and shallow knowledge base to deal with the problems in front of you, there was critical thinking but at a very basic level and more orientated towards 'let's just do this.'"
The value of the paramedicine degree, is that the depth and width of knowledge is greatly extended with the result of this is being the ability to problem solve which is excellent.
"You see staff out responding to a patient and there's the discussion, collegial approach to problem solving, ideas being thrown back and forth; staff are fluent with their therapies and their knowledge"
Tor believes it's important to contribute to the industry to keep getting better together, and it's why he wrote a book: The Art, not the Science as an introduction to the role for paramedic students.
"After the degree started I ended up giving students the same kind of advice, every time on different subjects and a colleague suggested I should write a book, so I did, "says Tor.
He praises the professional service Wellington Free has grown to today and the people who make it what it is.
"We have a board and team of managers who are high quality organisers with a professional approach. The outcome of this is that, from the top down there is a commitment to excellence throughout the service.
"I see this professionalism all the time, especially during our response to COVID-19. Despite long hours and a changing environment staff worked hard to ensure our service delivery was capable."
"The Head Office staff put everything to one side so that we had personal protective equipment, safe environments and systems that worked. We had daily email briefs about progress as things were changing very quickly; staff in the background were writing what we needed to know, so the system worked."
"I think that we are the best ambulance service in the country because of the standard of excellence that we aspire to and everything we do is designed to make the boat go faster."
There is value in time says Tor of his 40 year career and it means being able to see and do things differently. "I needed this amount of time to get to where I am. You can't rush it."
"We go in to people's homes and workplaces when there is a crisis and we are not just there to be paramedics, we are there to solve the problem and the problem may not always be medical."
Paramedics often take on different roles at times, including taking care in the background. "We go in to patient's homes, they trust us to come and help them but we may also change the sheets, make the bed, turn the oven off, lock the house up and feed the cat."
Over time he's learnt too, the art of steering a conversation, "it's something we as paramedics need to do often; sometimes a patient may want something but what they need is something else."
Cooperation and building a rapport helps us provide best care, "by learning to control a conversation you are able to turn attitudes around or lift morale to provide a silver lining to a dark cloud."
"What we hope to do is leave people smiling," says Tor.