About Us
We are the only emergency ambulance service in greater Wellington and the Wairarapa, and the only ones in the country who are free.
Get Involved
We are the only emergency ambulance service in greater Wellington and the Wairarapa, and the only ones in the country who are free.
What we do
Our news
A special Father's Day for Tobias
A special Father's Day for Tobias

06 September 2020
Today is for all the dads out there! For Father's Day this year we spoke with Clinical Communications Centre Team Manager Tobias who never knew what the true essence of 'wealth' was, until he saw his daughter Adalyn for the first time; now he's looking forward to celebrating his first Father's Day with her.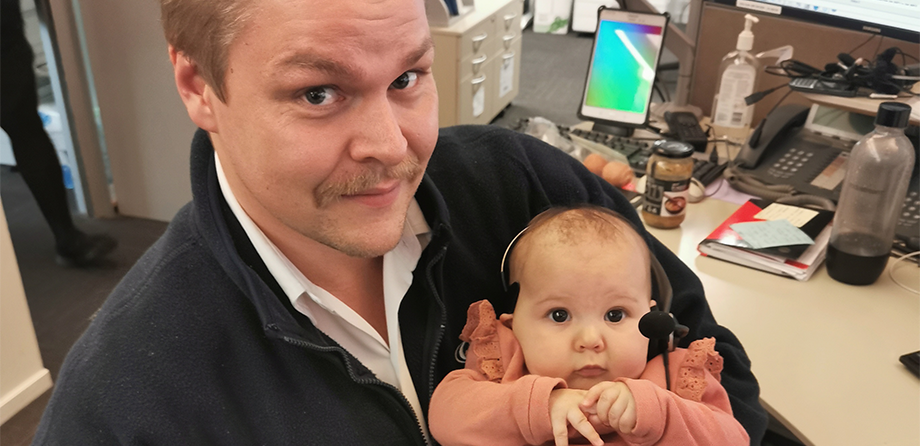 As he is working on Father's Day this year, he'll celebrate instead with a special brunch on Monday with seven-month-old Adalyn and his partner Mel.
Becoming a father has been life changing and Tobias says no amount of books, classes or educational videos can ever truly prepare you. "Every child has their own little personality, quirks and challenges and while you grow as a parent, they grow as a person."
"Knowing you have this precious little human that you are responsible for, who smiles at you everyday with such innocence really grounds you, and puts life in a much larger perspective,"says Tobias.
He hopes that as Adalyn grows he is able to instill in her some of the values he grew up with, like treating others as you would like to be treated, but most importantly he simply wants to be there for her as she grows up.
"I want to be someone she knows she can turn to, no matter what the situation. I want to encourage her to think positively and openly; to have an outlook on life where she can see positives in all the negatives that may confront her."
Tobias says his own father set a great example of how to be a decent human being, "he showed me through his actions that with a bit of hard work, perseverance and tenacity you can achieve most things in life, but not to forget where you started and those that helped you along the way."
His father also gave him an appreciation of the land and bush along with all the rustic and natural wonders in New Zealand.
"It was something that directed me towards studying environmental studies while at university and also shaped my mindset to always think of the impact of my actions and the consequences of them.
"We are only caretakers of the planet and the aim is to leave it a better place than what it was when you came in to it," says Tobias.
They are all mindsets that serve Tobias well in his job at Wellington Free, where he takes pride at the end of each day knowing he and his team have made a positive impact on people's lives; sometimes in life altering ways.
Tobias says he loves the camaraderie and team work at Wellington Free, and it helps that Mel is a paramedic and part of the team, at work and at home.
He's looking forward to the opportunity to spend whole days with Adalyn as he and Mel alternate shifts when she returns from maternity leave.
"Those who have had the privilege of meeting Adalyn often comment on how laid back, cheeky and happy she is," says Tobias.
Tobias says the best thing about being a father, is being a 'father' and marvels at his daughter's cheeky smiles and giggles that never get old.
Happy Father's Day to all our dads at Wellington Free and to those across our whole region and beyond.