About Us
We are the only emergency ambulance service in greater Wellington and the Wairarapa, and the only ones in the country who are free.
Get Involved
We are the only emergency ambulance service in greater Wellington and the Wairarapa, and the only ones in the country who are free.
What we do
Our news
Celebrating excellence in our welfare space
Celebrating excellence in our welfare space

19 January 2021
Wellington Free Ambulance Consumer and Whānau Liaison Jec, says looking after staff welfare is about knowing your colleagues needs and advocating for them.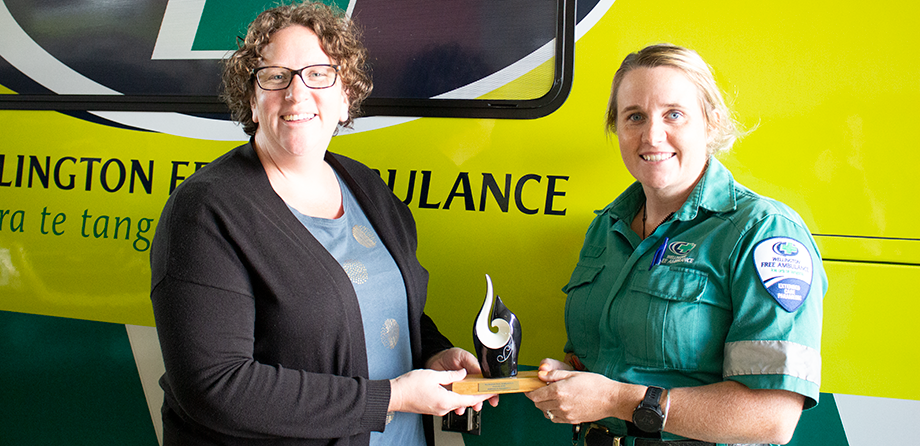 Jec and her colleague Laura recently won the Wellaware Excellence Award at the Wellington Free Ambulance Awards Night. Both paramedics were nominated by their peers for their outstanding work as welfare officers during our response to COVID-19.
Jec says it was a pleasant surprise to win the award. "Wellaware, our internal wellness programme, is such an important area of work and to be nominated with Laura and alongside our colleague Sean was amazing."
"It was a real honour to be peer nominated. We all work so hard here and without the collegial support and banter the job would be much harder. Being part of the Incident Management Team (IMT) as a welfare officer during this time was an absolute privilege."
During our response to COVID-19 our organisational value act with kindness really resonated , "we often have no idea what is going on in people's lives and being kind is one thing we can all do to help each other," says Jec.
"I think the COVID-19 response was a unique time for everyone. We had to connect in different ways because of the social distancing rules. This meant a lot more contact over the phone and through emails and staff surveys, it was evident how important our support structures at home are, so we needed to support both staff and their families."
Jec says it's important to recognise that everyone has a busy life outside of work with lots of different commitments. There is absolutely no way we can keep work and home life separate, they are always entwined.
"I think a top priority for me is that there is no one size fits all approach to welfare. We all need different things. What is a priority for someone now, might change in the coming years and we need to be able to adapt to each situation. We all have stressors in our lives and we all need to be kind to each other."
With Jec and Laura being in contact with so many colleagues they were able to support and advocate for them during those difficult months. So nominations came from all areas of the organisations to thank them for their support.
Jec said her family were 'chuffed' she had won the award. "I have a very supportive family and the support they have for me in the paramedic world is fantastic. I wouldn't be able to work in this industry without their support; they have been alongside me over the last 13 years."
Laura says she felt overwhelmed winning the award. "I care about our people immensely and when lockdown happened and everyone's normal was turned upside down, I just did what felt normal to me. I didn't expect it to be noted or recognised by my peers so it was very humbling."
"It felt great to know staff appreciated the work we put in. Responding to COVID-19 was a challenging time for us all and at times it was difficult to look after ourselves as well as others."
"I entered the IMT on day one and our initial steps were to understand what we already had in place and what we needed to develop," says Laura.
The first two weeks were interesting, developing guidelines and charts to follow that allowed for different circumstances that could arise in the ambulance sector. "It was quite a difficult environment as things kept changing constantly and the government set new guidelines."
"There were some stressful and long hours initially, but were worthwhile to help staff who needed emergency accommodation, financial support or someone to talk to."
Working for Wellington Free for ten years Laura started out as an Event Medic and progressed through many other roles, along her career journey.
"The thing I love the most about working for Wellington Free, are my colleagues; they are my family," says Laura.
"I hope in the future staff continue to feel cared for and valued; pandemic or otherwise. I hope they take time for themselves regularly and that this becomes common practice in our welfare space."