About Us
We are the only emergency ambulance service in greater Wellington and the Wairarapa, and the only ones in the country who are free.
Get Involved
We are the only emergency ambulance service in greater Wellington and the Wairarapa, and the only ones in the country who are free.
What we do
Our news
Celebrating International Volunteer Day
Celebrating International Volunteer Day

03 December 2021
In recognition of International Volunteer Day on Sunday 5 December, Wellington Free Ambulance Clinical Communications Centre Acting Team Manager, Nick reflects on his volunteer role that helps keep his local community safe.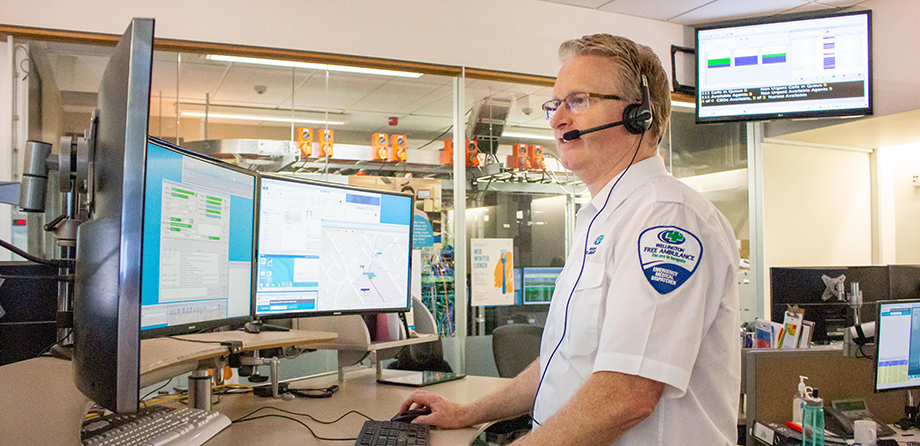 Having spotted the distinctive Tawa Community Patrol car shortly after moving to Tawa in 2013, Nick thought it would be great to be involved and get to know his new community; its people and geography.
"I had some free time and wanted to join a group to integrate myself into and also 'give back' to Tawa," says Nick.
Since joining the Tawa Community Patrol, Nick has held several roles, as a front-line night patroller and also behind the scenes involved with fundraising, member newsletters, committee work, and training sessions.
"A couple of years ago, I became a trustee of the charitable trust that has governance oversight of the patrol, and this year became Chairman of the trust."
He says his current workload mostly involves attending community and patrol management meetings, contributing to committee discussions, and supporting the excellent team who lead the various functions of the patrol.
"One of the highlights of the role is interacting with the committed team we have in Tawa, each and every one of them are passionate and dedicated to helping keep Tawa a safe place to live, work and do business in."
"The local community in Tawa is incredibly supportive of our activities, and assist us with funding and promotion whenever they can. We are grateful for all of the local support we receive."
"It inspires us to keep doing what we do, but do it even better."
Nick says the role of Community Patrols throughout New Zealand is to act as the 'eyes and ears' of the NZ Police. They operate under a framework provided by their national organisation, Community Patrols of New Zealand (CPNZ).
"We maintain a very good local relationship with Police, CPNZ, Wellington City Council, and several other volunteer service groups in Tawa; receiving support, intel, and a mandate to operate our volunteer safety patrols day and night, most days of the week."
He says one of the challenges of the role – common to many organisations – is retaining busy people who volunteer their precious time year after year. "As the world gets more hectic, people tend to have less available time to commit."
Nick says that by helping others, we can increase our own well-being as well as that of those we are helping. "It's fun, it's free, and you meet some amazing people."
"Everyone has useful skills and most of us can find some free time if we adjust our priorities from being 'self' orientated to having a community-minded approach."
"Cities and towns do not run by themselves. They are safer and healthier when residents take ownership of their environment, have their say and volunteer some time to help others."
For Nick, his volunteer role is an extension of the care he already provides to his community through working in our 111 Clinical Communications Centre and says it is certainly another aspect of his desire to provide a service to the city he lives in.
As a volunteer with Tawa Community Patrol, Nick is making a valuable contribution to his local community, increasing safety and strengthening local agency relationships that benefit the people of Tawa.