About Us
We are the only emergency ambulance service in greater Wellington and the Wairarapa, and the only ones in the country who are free.
Get Involved
We are the only emergency ambulance service in greater Wellington and the Wairarapa, and the only ones in the country who are free.
What we do
Our news
Here for you in the Wairarapa
Here for you in the Wairarapa

07 September 2020
Wellington Free Ambulance Intensive Care Paramedic Adam says it's often not the advanced medical interventions that patients will remember you for, it's the small non-clinical things like feeding their cat is what sticks with them.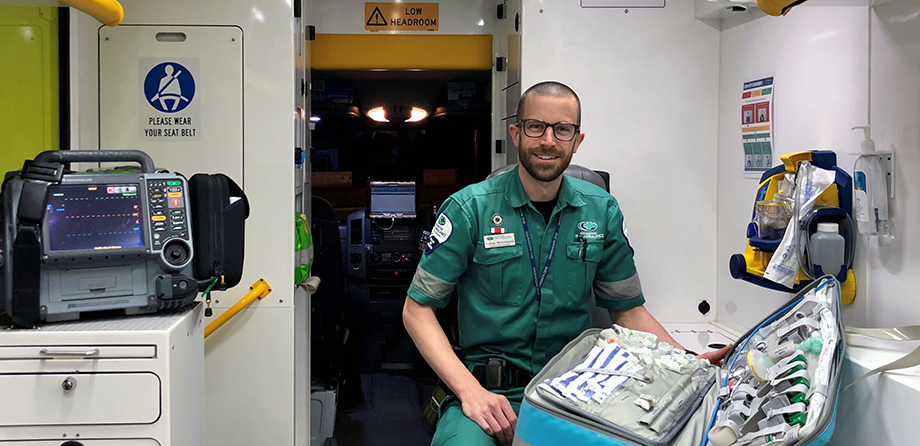 "Even if someone is having a heart attack, people still worry about their pets, loved ones, and home," says Adam. "The least we can do is take some of that worry away and ensure that the house is locked up and everyone is cared for."
"It's a privilege to be in a job where you can step into people's lives at their time of crisis and be able to make a difference. I love turning up to work not knowing what the shift will bring."
As an Intensive Care Paramedic, based out of Masterton station, Adam works with a close-knit team providing advanced emergency medical care to the Wairarapa. "Along with our normal workload, we are able to bring additional skills and interventions to high acuity cases like cardiac arrests and major trauma," he says.
His daily workload is always variable so there could be plenty of time for coffee and study one day, and then going from job to job the next, he says.
"It can be particularly challenging when all of our resources are busy and there are jobs waiting or other crews are calling for assistance. The Wairarapa is seen as a quiet place to work, but it doesn't take much to overload the limited resources we have," says Adam.
It's the unpredictability of his role that is one of the elements that makes him happy to come to work each day.
Adam says he is lucky to have an incredible team in the Wairarapa that are more like family than work colleagues. He finds the Wairarapa a brilliant place to live and work too.
"We get to see some beautiful countryside in our travels and there is a strong sense of community here."
There exists too, a great culture within Wellington Free and this can be seen from head office right through Wellington and the Wairarapa, says Adam. "It's the people that make Wellington Free Ambulance great."
Adam says one of his biggest achievements in his career so far, is being part of the National Ambulance Sector Clinical Working Group. "As part of this group we reviewed and published the latest Clinical Procedures and Guidelines.
"We always need to keep current with the latest literature and international best practice. A lot changes very quickly with evidence-based medicine and it's important that we are at the leading edge of patient care," says Adam.
"I'm always surprised with how the role is evolving with time. More and more interventions and medications are being introduced to help improve patient experience and outcomes."
In the coming years Adam hopes to continue his learning through more tertiary study and to further advance his role as an Intensive Care .