About Us
We are the only emergency ambulance service in greater Wellington and the Wairarapa, and the only ones in the country who are free.
Get Involved
We are the only emergency ambulance service in greater Wellington and the Wairarapa, and the only ones in the country who are free.
What we do
Our news
Onesie Day 2021: New World
Onesie Day 2021: New World

02 August 2021
The team from the top supermarket to fundraise last year, New World Thorndon, have once again stepped up to support Wellington Free Ambulance's Onesie Day annual appeal.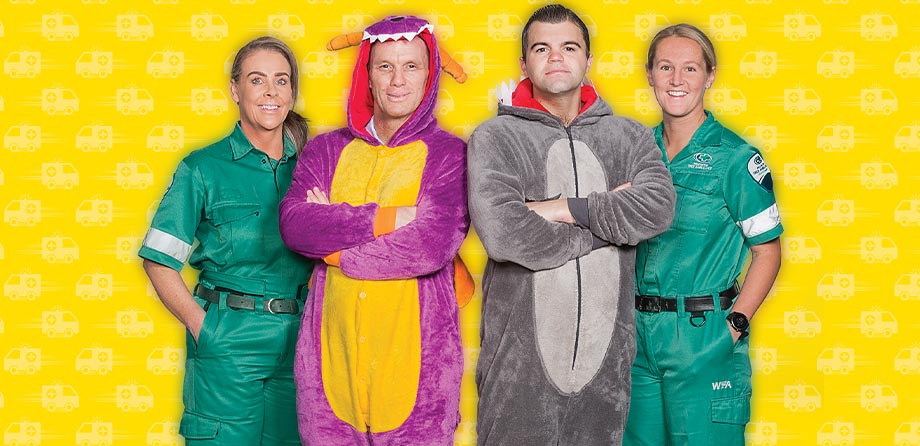 "As a locally owned and operated business, New World Thorndon is in a privileged position to be able to support services that are essential to the community," owner-operator Reese says.
"Wellington Free is there for all of us and has helped someone we know, if not ourselves. It's one of the areas we can contribute to in such a meaningful way."
Reese says Onesie Day, such a fun and visual event, allows people to connect easily and recognise the importance of Wellington Free Ambulance.
"It reminds us all to further appreciate and support this unique Wellington service, which can at times be taken for granted until needed."
This Onesie Day, the team at New World Thorndon will again be accepting donations at checkouts and are currently looking at some fun ways to drive awareness while engaging with customers.
"The team really get behind Onesie Day, it's their chance to make a difference and be part of something so relevant to us all. They look to improve on the previous years' result and set some personal targets," Reese says.
New World checkout operators, Nicholas and Chris were the top two operators last Onesie Day receiving the most donations at their checkouts.
Both were extremely proud, feeling a real sense of accomplishment on the day.
Fittingly their faces beam proudly from this year's marketing posters, their onesie-clad selves soon to be plastered across the region to promote Onesie Day.
Chris, knows first-hand how essential Wellington Free is after his neighbour called for an ambulance when he fell, putting his hand through a window and cutting it badly.
"The paramedics were very caring and reassuring and did everything they could. I have always been very grateful for this."
"Onesie Day is a good cause, it raises money for an essential service that relies on public funding to keep operating, Chris says.
Nicholas hasn't had a personal experience using Wellington Free but loves Onesie Day as it gives him the opportunity to don a onesie and be part of the Wellington Free Ambulance tradition.
Both he and Nicholas are cognisant that having a 'free' ambulance service helps remove any potential worries about cost when deciding whether or not to call for an ambulance.
As a community minded organisation, Reese encourages other local businesses to get behind Wellington Free too.
"Seize the opportunity, as a proud organisation - be the vehicle and conduit for maintaining a free service that is so critical to the community."
"Part of our social responsibility sits here, with us," Reese adds.
Nicholas and Chris recently donned their onesies to help us promote this year's Onesie Day. Keep an eye out for this year's posters around Wellington and the Wairarapa very soon.

Onesie Day 2021 is happening from 2-4 September. With your support, we can help keep the 'free' in Wellington Free Ambulance and raise enough to purchase a special Onesie Day branded ambulance that is fundraised by the community for the community. For more information, please go to www.onesieday.co.nz.