About Us
We are the only emergency ambulance service in greater Wellington and the Wairarapa, and the only ones in the country who are free.
Get Involved
We are the only emergency ambulance service in greater Wellington and the Wairarapa, and the only ones in the country who are free.
What we do
Our news
Onesie Day: Emma and Larissa
Onesie Day: Emma and Larissa

05 August 2020
For Emma and her dog Monkee, what was supposed to be a regular walk in the park ended with life threatening injuries and a call for help to Wellington Free Ambulance.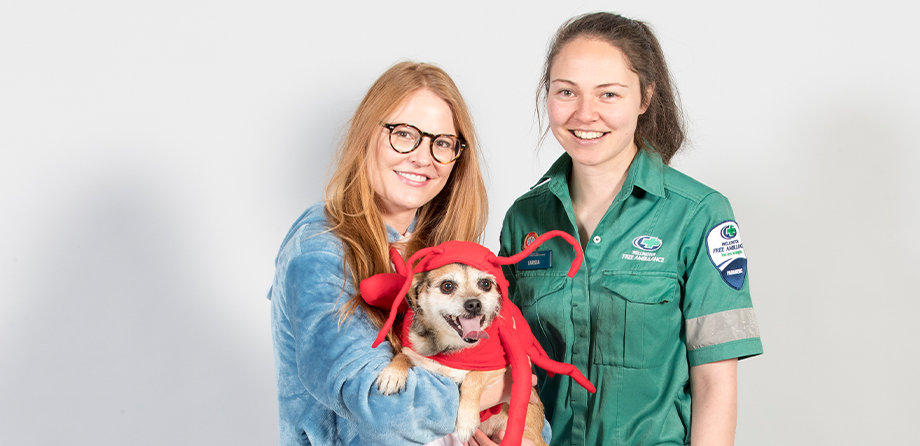 Responding to her 111 emergency call Wellington Free paramedics were able to help keep Emma calm and talk her through everything they were doing to keep her safe and well cared for her.
Paramedic Larissa says her focus was on caring for Emma, "she needed our help and a safe space and we were able to give that to her."
Larissa says it is a privilege be able to help people like Emma who are in vulnerable situations. "Every day my job makes me grateful for what I have."
It was Larissa's and her crew mate Jane's calm and compassionate approach that immediately made Emma feel like she would be ok.
"They were so gentle with my injuries and so reassuring, it kept me from panicking and crying.
"Even when I was scared, bleeding, and in pain they were some of the kindest, most caring people I've ever met," says Emma.
The harrowing experience also upset Monkee and Emma was so appreciative that her usually energetic border terrier was able to ride with her in the ambulance.
"Monkee was so scared after what happened, she crawled up and sat on my lap and rode with us the whole way to the hospital."
When the doctors took over her care, paramedic Jane volunteered to watch Monkee until Emma's partner arrived.
"Jane really went above and beyond, waiting with Monkee then driving my partner back to where I had left my car; all while reassuring him I would be ok."
Supporting Onesie Day is an opportunity to give back to everyone who helped me, says Emma.
"I was so excited to be asked to participate in this year's Onesie day photoshoot – Monkee included, so I could show my appreciation and tell my story.
"I hope that by supporting Onesie Day I can help others to understand how truly special and necessary Wellington Free is."
"I can never repay everyone for the kindness and compassion they showed me that day, but I feel like I have been able to at least tell them how much their care meant to me," says Emma.
"Not only did Wellington Free care for me as a patient, they cared for me as a person, and I will be forever grateful to them."
Emma is putting on her onesie to show her support for Wellington Free Ambulance's Onesie Day on 4 September 2020. If you'd like to join her, go to our Onesie Day website.