About Us
We are the only emergency ambulance service in greater Wellington and the Wairarapa, and the only ones in the country who are free.
Get Involved
We are the only emergency ambulance service in greater Wellington and the Wairarapa, and the only ones in the country who are free.
What we do
Our news
Quick and responsive action helps Mike survive
Quick and responsive action helps Mike survive

07 May 2020
Quick and responsive action is what saves so many lives across Wellington, Kāpiti, and Wairarapa – including the life of 75-year-old, Mike.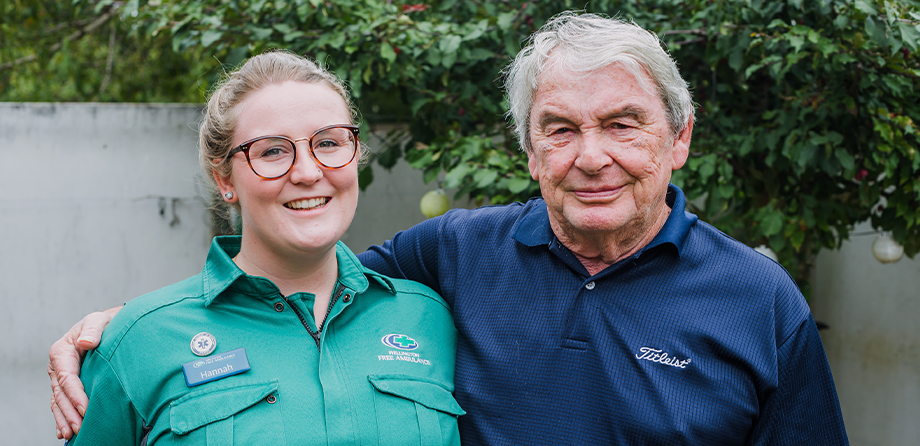 He knows the importance of having an emergency service like ours because on 24 October last year, it was Mike who needed our life saving help.
It all started one afternoon when Mike and his wife, Glenys, were relaxing at home. Mike had been busy doing a few things around town and explains he felt completely fine.
After they had talked about what they were going to have for dinner that evening, Mike went to the bathroom but didn't return. Glenys got a bit worried so went to check on him and found Mike clinging to the windowsill.
He was sweating profusely and was incredibly pale; he did not look good. She asked if he was ok but Mike didn't reply. Instead, Mike let out an awful groan and collapsed.
"It all happened so fast. I remember catching him and getting him onto the floor, then dialling 111 and starting CPR. It was the scariest moment of my life."
Mike was lucky that Glenys already knew CPR; immediate, good quality CPR greatly increases the chances of survival. Glenys carried on with CPR, under the expert guidance of the 111 Emergency Medical Call Taker.
Our Paramedics Hannah, Caren, Andre and Sharon arrived quickly and reassured Glenys that she was doing great work.
"I was just grateful that I wasn't alone. All I remember was them standing beside me and reassuring me that they were there to help."
Glenys was asked to continue providing chest compressions while our paramedics got set up, giving them the best opportunity to take over Mike's clinical care.
CPR can be exhausting, but Glenys kept going. With her husband's life in her hands, she carried on with all the energy she had.
"I was concentrating on what I was doing. I never thought this would be something I'd ever have to do and I wasn't prepared to stop."
But Mike was not in the clear yet.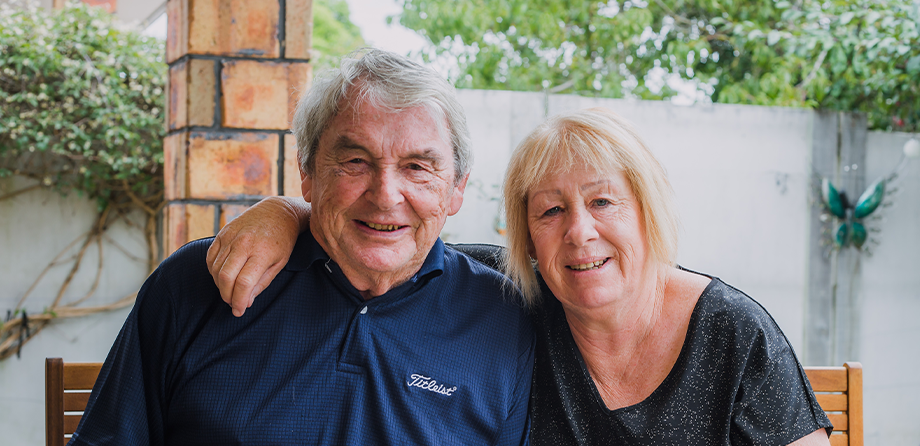 Glenys had done everything she could, now it was time for our paramedics to take over.
Saving Mike wasn't going to be easy. Our team were doing all they could to help keep him alive. Everyone in the room knew they needed to get Mike's heart beating as soon as possible.
Paramedics Hannah, Caren, Andre and Sharon managed to shock Mike's heart back into a rhythm, only for it to stop seconds later. Again they would shock Mike's heart but it just wouldn't regain a healthy rhythm.
Finally after 10 minutes of CPR and another shock, Mike's heart began to beat for itself.
"You just have keep going until you've done everything you can. I know it was a relief for everyone in the room but we could only take a second as we had to quickly switch gears and focus on stabilising Mike.
"Ten to 15 minutes is most often a turning point in resuscitation. If it takes longer than that, the outcome is usually not as good. It's always a relief when a person's heart starts beating again," says Paramedic Hannah.
Mike's condition was improving second by second but our paramedics were still racing to get him to hospital.
While the others continued around her, Intensive Care Paramedic Sharon made sure Mike was ready for transport via air ambulance that was on its way.
The next thing Mike remembers was waking up in Wellington Regional Hospital.
He had no recollection of what had happened to him but as he recovered in hospital, everything started to sink in.
"It is a reality check and just goes to show you don't know what's around the corner. All I can say is thank you; to my wife, Wellington Free, everyone. Thank you for saving my life," Mike says.
Mike is alive today because of quick and responsive action of those around him. He doesn't remember much of this day — jokingly, he still says someone is playing a trick on him.
That said, Mike is very grateful to be alive and thanks Wellington Free Ambulance for being there for him when he needed us most.
Help us continue to be here for you!
It's thanks to your continued support that out highly skilled, professional, and dedicated paramedics and 111 call takers can be there to help each and every person who needs us. If you would like to make a donation, you can do so online at www.wfa.org.nz/donate or by calling us on 0508 932 3733.