About Us
We are the only emergency ambulance service in greater Wellington and the Wairarapa, and the only ones in the country who are free.
Get Involved
We are the only emergency ambulance service in greater Wellington and the Wairarapa, and the only ones in the country who are free.
What we do
Our news
Wahine 50 - Peter Huggard remembers
Wahine 50 - Peter Huggard remembers

09 April 2018
On the morning of 10 April 1968, Wellingtonians woke up to gale force winds and torrential rain. Roofs detached from houses, trees blew over and power lines toppled. As Wellington was battered by this ferocious storm, the inter-island ferry T. E. V Wahine was starting to enter the harbour as winds were hitting over 100 miles per hour.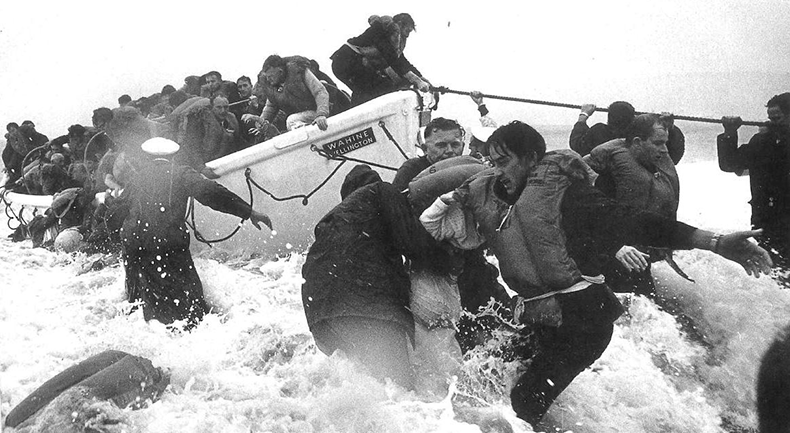 By the early afternoon Wahine's 734 passengers and crew were ordered to put on their life jackets and abandon ship,
A number of passengers jumped into the sea, some were picked up by lifeboats and other vessels, but sadly others drowned, died of exposure, or were swept over to the eastern shore colliding with the rocks. Eastbourne was the scene of greatest tragedy with survivors unable to reach the shore and rescue volunteers unable to reach them. The disaster claimed 51 lives.
The tragedy inspired many acts of heroism and bravery that day. Passengers and crew helped others before themselves; other vessels engaged in valiant rescue efforts and numerous individuals struggled against the surf and harsh weather conditions to save wreck victims.
Aware of the severe weather conditions in the early morning Wellington Free Ambulance had called in nearly all of their off duty staff and volunteers as they anticipated a day that would bring a number of accident and injury cases. By 10am Wellington Free had already attended 43 incidents on land due to the severe weather conditions. When Police advised of the imminent danger of the Wahine rolling over, six ambulances were immediately dispatched to Seatoun Wharf and two ambulances headed to Eastbourne. Along with members of the men's auxiliary, Red Cross volunteers and other local volunteers a dressing station was established at Eastbourne and a co-ordination point at the Inter-Island Ferry Wharf. 228 cases were logged by Wellington Free relating to the Wahine disaster.
Peter Huggard joined Wellington Free Ambulance as a volunteer member of the Men's Auxiliary in 1968, aged just 21.
When working for an ambulance service there is no such thing as a normal day. Every day presents new situations and challenges. It tests you, forcing you to think and act differently, often coming away with feelings you didn't know you could feel and emotions that will stay with you for a long time. But when Peter turned up for shift on 10 April 1968 he had no idea that this day would end up being a day he would remember for the rest of his life.
What I remember by Peter Huggard.
I remember my oldest friend, John Henwood, joining Wellington Free Ambulance as a volunteer. Shortly afterwards in 1966, whilst studying at Victoria University, I also became a volunteer. I was only 19 years old.
I remember we were known as Auxiliary Ambulance Officers and in my 14 years with Wellington Free I was either the President or Secretary of the Men's Auxiliary and took a particular interest in arranging training for my crew.
I remember lots of days and events during my time at Wellington Free but Wednesday 10 April will always stand out.
I remember attempting to catch my usual 7:25am train from Woburn Station. But on this day no trains or buses were running due to the storm. I changed into my uniform, borrowed by Mother's car and drove to Lower Hutt Ambulance Station.
I don't remember lots of rain, but I do remember the wind. We heard that the Wahine was on the rocks at the entrance to Wellington Harbour but at the time it didn't relate to a major disaster. I guess we thought it would eventually float away from the rocks.
I remember I went to several jobs that morning, many relating to the storm, but all on land. Shortly after 1pm Major Gordon Stanley, announced on the radio that a disaster was imminent as passengers and crew of the Wahine were about to abandon ship. Our disaster plan was activated and ambulances started moving around the region, concentrating on getting as many resources as we could to Seatoun beach.
I remember Major Stanley saying he was sending Ambulance 7 with Gordon Johnston and me to Eastbourne in case any survivors came ashore there. Gordon and I loaded our vehicle with extra dressings, oxygen bottles, blankets and headed off around the Bays.
I remember the waves were splashing over the road and at Point Howard, our engine was flooded and stopped. Thankfully there was an AA service man parked right there. He emptied 2-3 cans of CRC over the engine and we were on our way again.
I remember the boats that were washed up to, and in some cases, onto the road. At the end of the road by the Eastbourne Bus Company garages, Gordon set up our ambulance ready to receive any casualties and I took a small kit bag with bandages and some other first aid equipment and headed off on foot along the gravel road around the coast.
I don't remember how far I walked until I found my first casualties but I imagine it was somewhere between 1 and 2 kms.
I remember seeing lifeboats arriving on the beach or being toppled into the surf and some onto the rocks.
I remember one young man lying unconscious on the beach with very few clothes on. He had major injuries – fixed dilated pupil, Cheyne Stoking respirations – a pattern of breathing often presented in dying, he had rib fractures and a broken pelvis.
I remember a couple of years previously while in the School Army Cadets at Hutt Valley High School, I had attended a three week army medical course at Burnham Army Camp. One of the instructors talked about triaging – his advice was "deal with the most severely injured, then the moderately injured, then the walking wounded and lastly those who may be able to take care of themselves". The instructor then added "In times of war and major civil disasters, you may not have the resources to deal with some of the most severely injured, and they will have to be left to die – and I hope to God you never have to do that". I never thought I would ever be in that situation. I certainly never thought I would have to make that conscious decision twice in one day.
I remember examining the young dying man, and feeling completely overwhelmed wondering what I could do. At that exact moment a lifeboat crashed onto the rocks and emptied survivors into the water. I looked at the young man lying on the beach, turned around and walked towards the lifeboat. I've thought about that moment many times since and although I am sure I made the right decision, it was extremely hard, and a decision I felt I should not have had to make.
I remember much of what I did that afternoon was telling people to keep walking to the start of the road as Gordon would be there to help. At one point a man came along with a small flatbed truck. I loaded survivors onto the truck and he drove them to the end of the road to find Gordon and the ambulance.
I don't remember how long I was out there on my own for but it seemed like a very long time.
I don't remember how many bodies I pulled from the water and laid on the beach or how many people I gave some form of first aid to.
I remember at about 5pm Major Stanley arrived and he drove me home.
I remember when I arrived home the power was off and my parents were sitting around a kerosene heater in the kitchen boiling water for a cup of tea.
I remember my Father asking me what it was like and saying "isn't it wonderful that only one person had died". This must have been all the news they had.
I remember shouting angrily at him saying "ask me how many bodies I've pulled out of the water today!".
I remember later that evening, around 9pm I drove to Lower Hutt Ambulance Station. I needed the company of people who had been there and knew what had happened. Several of the crew were there, and we just stood around in the garage not saying much, nothing needed to be said.
I don't remember there being operational debriefs after the event. Or any follow up with staff who had been there to check in with their emotional wellbeing. These aspects would be handled very differently today.
I remember many years later in the mid-1990s experiencing a series of flashbacks from my time at Wellington Free Ambulance. The first of these was connected to Wahine Day.
I remember I was watching a TV Programme about train crashes in America. In the programme the Fire Chief had called his crew off the scene as it was too dangerous and the train was about to explode. One of the drivers was still trapped in the cab but they were quite sure he would have died. Then there was a scene with a fireman, very upset, who said: "I know the Chief made the right decision, but it's very hard, we are trained to save lives, not walk away from them".
I remember I immediately felt numb and experienced hot sensations running up and down my body, I started to shake and left the room. My wife found me sobbing in our bedroom – it was the 'walk away from them' words that caused my reaction. That's what I chose to do on that day on the eastern bays coastline for that young man and an elderly woman. Twice in a day. I made that decision twice in one day.
I remember at the time as I was studying for a master's degree in counselling and was able to use some class time to start processing what happening. In hindsight, those experiences have been a gift in that they took me into a doctoral programme and down a career path of learning, teaching, and researching about vicarious trauma and compassion fatigue, as a senior lecturer at the University of Auckland.
I've gone full circle since my time with Wellington Free. Having (almost) retired 18 months ago, I did my First Responder training with St John and do a frontline shift at the Waiheke Ambulance Station most weeks. Last month I attended the first block for the New Zealand Diploma in Ambulance Practice course. This will hopefully lead to gaining my Authority to Practice as an Emergency Medical
Technician and I'll be out on the road again.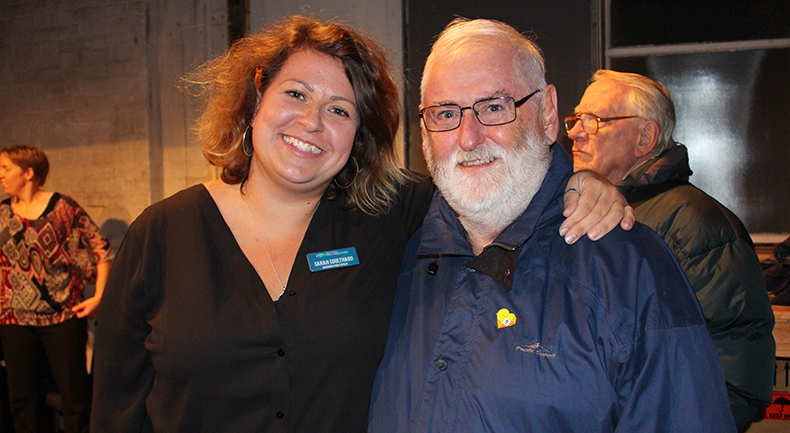 Peter Huggard pictured with Wellington Free Ambulance Communications Advisor, Sarah Coulthard.