About Us
We are the only emergency ambulance service in greater Wellington and the Wairarapa, and the only ones in the country who are free.
Get Involved
We are the only emergency ambulance service in greater Wellington and the Wairarapa, and the only ones in the country who are free.
What we do
Our news
Emergency Medical Call Taker: Lea
Emergency Medical Call Taker: Lea

23 November 2021
Lea's official title is Senior Emergency Medical Call Taker – the reality is mental health support worker, logistics and communications expert and emotional wellbeing support person.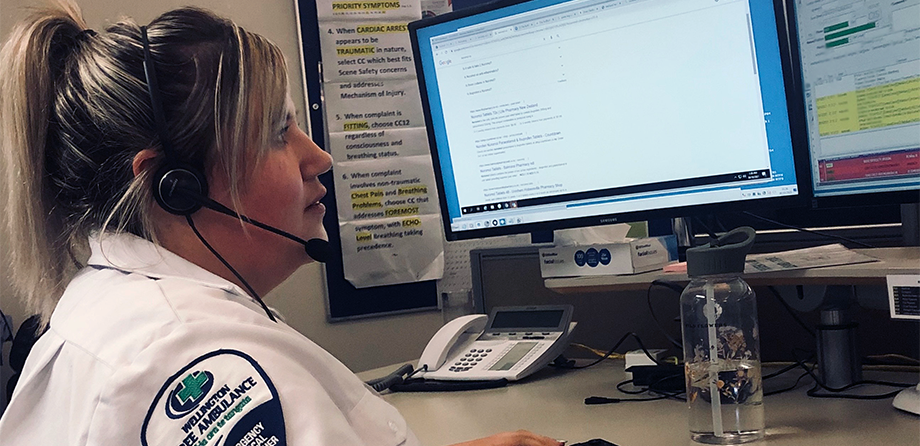 Lea, Senior Emergency Medical Call Taker, has been answering up to 60 emergency 111 calls each shift with Wellington Free Ambulance for the past two years.
Over this time, she has dealt with people from all walks of life in a huge variety of situations. Lea has talked an 8-year-old through doing CPR on her father, guided families on how to deliver babies or just been the ear for someone who is needing to talk until help arrives. These are examples of how diverse the role can be.
"No call is the same. There are challenges with every call, whether it be locating where the person is or providing CPR instructions. We always ask them to tell us exactly what happened, as it assists us to identify which protocol to go down, ensuring the patient gets the most appropriate help for their situation," explains Lea.
Lea and the team provide lifesaving instructions in high stress situations every day of the year, 24-hours-a day. The communications centre is based in Thorndon and is part of the nationwide network - alongside St John – with additional centres in Auckland and Christchurch.
"Having a national network of comms centres means we can support each other – which is really important if one area has a crisis or experiences really high demand, we were able to take calls to support our colleagues," Lea recalled.
Working a four day on, four day off 12 hour shift roster that covers both days and nights, Lea explains that there are definite patterns to the busy times.
"Saturday mornings in winter are busy with sports related injuries, Sunday morning we hear from people who are hungover after a night out, then there are the expected busy times – New Year's Eve, Friday and Saturday nights – full moons are also a busy time for the team."
The training to qualify as a Emergency Medical Dispatcher is intensive classroom training for 6 weeks. From there is 6 weeks of "live room" training where you are supported by a mentor before taking calls solo. This training results in a diploma in Emergency Medical Dispatch. As well as a call taker, Lea is also a mentor. She loves this aspect of the role, introducing a new person to the world of ambulance.
"As a mentor you guide them as they get over their pre-call taking jitters, to taking their first call, to being able to comfortably do a CPR call by themselves. It's rewarding seeing somebody else's passion for the job blossom and hear them use the tools I use to calm down callers. It is great to see them get the same feeling when they are thanked for what they do. I see their eyes open to the reality of how important a call taker role is," reflects Lea.
As with everything there are positives and challenges to this demanding role with Wellington Free Ambulance. There is a huge amount of relief and satisfaction for call takers when they locate someone who doesn't know where they are but needs assistance, or they talk through a family to deliver a baby whilst an ambulance is on the way. One of the difficult aspects of the role that has become more of an issue over the past year has been aggressive and abusive callers. Unfortunately, the amount of people yelling abuse or people refusing to give information has been on the rise and that can take its toll on the team.
"At the end of the day I do this because I want to be able to help people and get them the best help as fast as I can, when people are being aggressive it can be really hard to find out what we actually need to know and that can cause a delay. We only ask the questions we do to be able to give the right help," explains Lea.
Another aspect of the role that can be challenging is developing a rapport with the person or their family member and not knowing the outcome of the situation. There is a very strong emphasis on support within the communications centre team, it is important for the team to debrief and discuss the more complex calls to gain closure where they can.
"It can be emotionally draining going from one call to the next – we can go from an elderly person who has had a fall to a paediatric cardiac arrest. Another emotionally challenging situation is when a child is calling for an adult, we have to manage the emotions of the child and try and make them fully aware of what is happening. We always stay on the phone until the ambulance arrives with these calls to be able to provide extra support. Being resilient is an essential quality for any call taker," says Lea.
On many occasions Lea has heard the relief in the person's voice when the paramedics arrive, it is then, and when they thank her for what she has done, that she knows she has done her job well.
"Being able to provide CPR instructions to callers and the outcome for the patient is they have survived a cardiac arrest is very rewarding, knowing you have played a part in the resuscitation," Lea reflects.
Like many roles that don't have a public profile, there are many misconceptions about the work of a call taker. Lea has had many occasions when people assume she is down the road from where they are, not in Thorndon, Wellington. People frequently think they can be located without providing an address – that is something it would be helpful for people to have on hand before they dial 111. Often people feel frustrated when they are told there will be a wait for an ambulance to get to them, as with all emergency services limited resources mean life threatening emergencies must be prioritised for the team.
Just like the job title, the key qualities that a successful call taker brings to their role are diverse. A compassionate approach, knowing you are dealing with people going through the worst days and scariest times. Having good intuition and listening skills, given you are unable to see what is happening for the person at the end of the phone. It is important to be able to think creatively when you need to change protocols in response to the situation.
Lea recalls a time when she had to do this as the woman who had called for help with someone needing CPR only had the use of one arm due to a stroke, so she was unable to move the patient and doing compressions with only one arm was difficult. Clear communication is essential and being able to adapt to people who may have hearing loss or English as their second language.
When Lea thinks about resilience, she sees it as important on two levels. Taking care of yourself as you move from call to call so you can be there for the public who are relying on you and because you are part of a team who also rely on you.
"Supporting each other as a team is really important. Taking time to talk and debrief about what's really going on, either collectively or one on one is a great strategy," explains Lea.
As an animal lover Lea is kept very busy with her farmyard animals as well as the foster animals, they take in from the SPCA. Lea is clear that she leaves work at work and has a mantra that serves her well.
"The people who called today have got the help I was needing to give them. It is their emergency not mine. For me this is a great way of splitting the two lives."