About Us
We are the only emergency ambulance service in greater Wellington and the Wairarapa, and the only ones in the country who are free.
Get Involved
We are the only emergency ambulance service in greater Wellington and the Wairarapa, and the only ones in the country who are free.
What we do
Our news
Ensuring Patient Safety with Welfare Checks
Ensuring Patient Safety with Welfare Checks

20 November 2020
Wellington Free Ambulance, Executive Director Clinical Communications Centre, Kate says welfare checks are a way of filling the 'care gap' to ensure the ongoing safety of our patients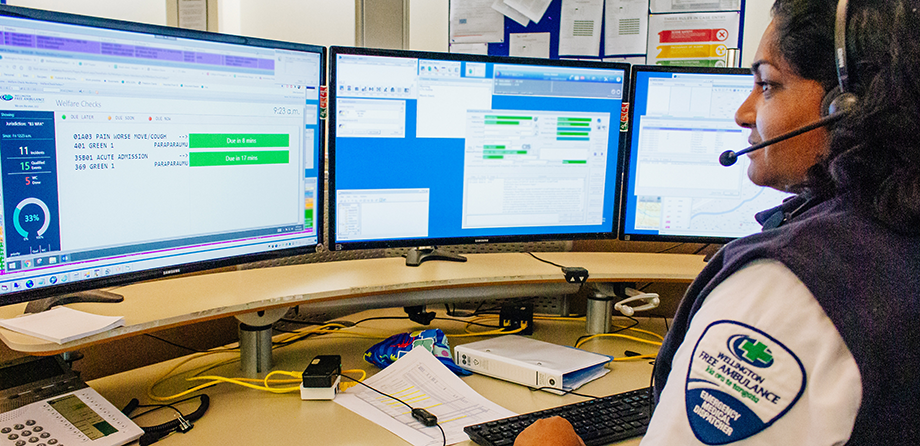 For most ambulance services around the world the demand for help often outweighs ambulance resources, says Kate. "This creates a 'care gap' for patients between when an emergency call is made and when paramedics arrive."
"It can be a time of anxiety and vulnerability for a patient during this 'care gap' when there is a lack of information known by both the ambulance service and those at scene."
Wellington Free Ambulance have undertaken a vast amount of work to fill that gap says Kate.
Our IT department, data and communication centre teams worked together to create a real-time dashboard. "This means dedicated staff in our Clinical Communication Centre can ensure all of our 111 callers get regular welfare checks while they wait for our paramedic crews to arrive."
The dashboard is an easy and quick way to work out which patients need a call back, most importantly it means we are keeping in regular contact with our patients and have updates to any changes in their condition.
This is one way we can be aware of changes as they arise and adjust our care immediately.
"We use a medical priority system to help triage a patient's condition and determine how fast we need to respond, according to their medical situation, including determining their risk of deterioration," says Kate
"Welfare checks mean we are able to provide reassurance to a patient and re-triage them if their condition has either deteriorated or improved." It also means we are able to reallocate resources to our most urgent patients.
Kate says a text message is also sent to everyone who calls 111. "It reiterates the instructions given, tells how long we are going be and gives a reminder to call 111 again if there are concerns or anything changes. This gives a patient the best possible chance of a safe outcome."
"Patient safety is our highest priority – it is what we are here for and this is demonstrated by everyone at Wellington Free. From our call takers giving lifesaving instructions, our dispatchers sending the most appropriate responders to a scene, our paramedics and nurses in our Clinical Communications Centre giving medical advice over the phone, to our frontline paramedics giving world-class care on scene."
Staff are supported by management, who know that by looking after our staff, they in turn can best care for our patients, says Kate.
An extraordinary team of people work behind the scenes to support our staff too. "Our trainers, our quality auditors and patient safety leads ensure staff have access to the most up-to-date information and can demonstrate the highest standard of patient care across the board."
This year's Aotearoa Patient Safety Day theme of getting through together is illustrated by the remarkable team we have working in our Clinical Communications Centre who support one another to give 110% to every patient they come into contact with.
"If someone is a designated welfare call taker and becomes busy or needs a break, another team member will always step up, so that no patient is ever left in a vulnerable position."