About Us
We are the only emergency ambulance service in greater Wellington and the Wairarapa, and the only ones in the country who are free.
Get Involved
We are the only emergency ambulance service in greater Wellington and the Wairarapa, and the only ones in the country who are free.
What we do
Our news
Twenty-six years with Wellington Free
Twenty-six years with Wellington Free

17 August 2020
After receiving burns to 75% of his body working as a volunteer firefighter Ross knew he still had more to give to his community so joined Wellington Free Ambulance.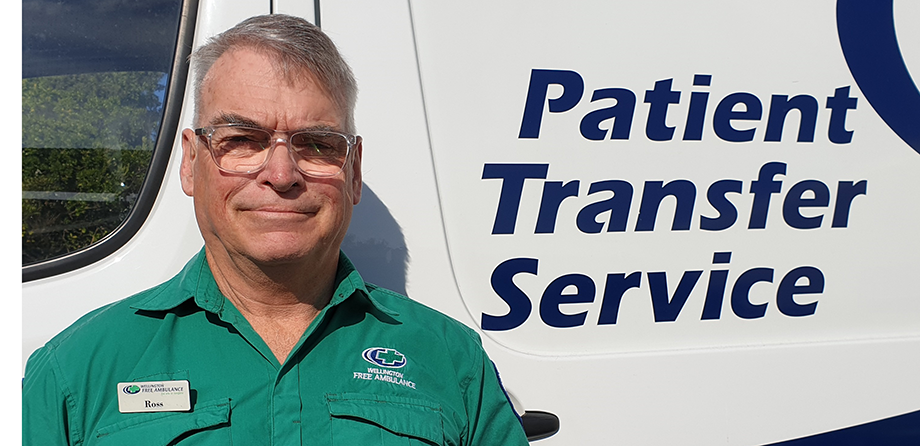 Starting as a volunteer 26 years ago, Ross worked alongside frontline Emergency Ambulance Services covering six stations over seven nights and during weekend days.
Taking up a role in the Patient Transfer Service in 2008 he was one of the first two officers to be based at LifeFlight transporting patients from flight transfers.
The following year, Ross took on a new direction at Wellington Free and was appointed as the first Events Manager, running a dedicated team of event medics.
"We started with 10 event medics and three clients, and over the next couple of years increased our event medic pool to over 30 and increased our client base in excess of 150 clients," says Ross.
In 2014, Ross moved back to the Patient Transfer Service, where he remains today.
He likes that no two days are the same and it's this as well as being able to interact with people from all walks of life that keeps Ross coming to work each day.
"You never get two days the same, the workload will be different and the people you meet all come from different walks of life with different requirements," says Ross.
"My own medical history helps me relate to all kinds of people, which can provide a different focus to their own situation. I'm able to offer a unique experience and a sense of humour second to none," he adds.
The Patient Transfer Service is a place where friendships are established with long-term patients and urgent inter-hospital transfer patients. "It's great to be able to see some of these patients later in a much better place," says Ross.
Ross praises the team work across Wellington Free. "I think the team work within the organisation is what makes us great. As an organisation we cope well with change due to our size and I think our response to COVID-19, that changed day-by-day showed this."
"My biggest achievement at Wellington Free has been to be part of a great team and to have watched staff who worked in events develop and move on to Emergency Ambulance Services and into management.
"I've been part of a team that raised the profile of Wellington Free in the events arena and now I'm part of a Patient Transfer Team providing outstanding service to those we care for."
Thinking ahead to the future, Ross hopes the last few years of his working career are spent supporting his team to provide excellent care to the community.