About Us
We are the only emergency ambulance service in greater Wellington and the Wairarapa, and the only ones in the country who are free.
Get Involved
We are the only emergency ambulance service in greater Wellington and the Wairarapa, and the only ones in the country who are free.
What we do
Our news
Celebrating Aotearoa Patient Safety Day 2021 with Pele and baby
Celebrating Aotearoa Patient Safety Day 2021 with Pele and baby

17 September 2021
Today we celebrate Aotearoa Patient Safety Day 2021  | Te Rā Haumaru Tūroro o Aotearoa 2021. This year's focus is on maternal and newborn safety. We reflect on Pele's story and how we helped, when the unexpected happened earlier this year.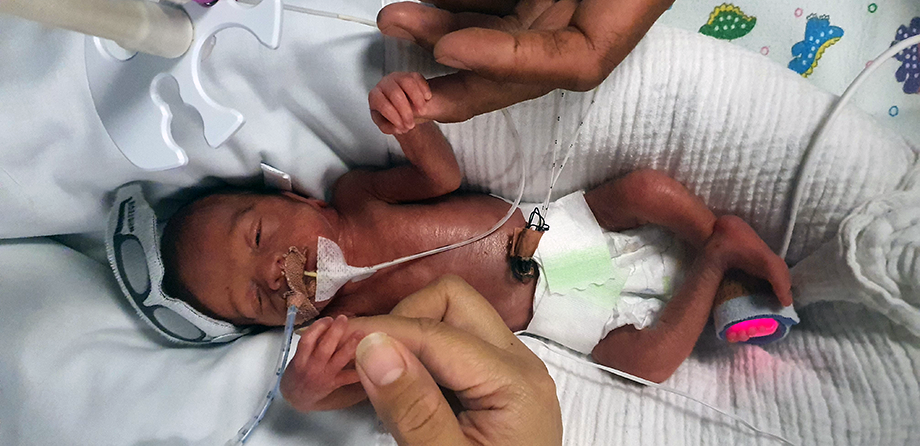 Twenty-four weeks pregnant and experiencing abdominal pains, Pele jumped in the van with her husband and two of her brothers-in-law, they had planned to go diving, instead they all headed to Wellington Hospital, when things took an unexpected turn.
Travelling from Upper Hutt, Pele went into labour, and her husband had no option but to pull over on SH2,near the Haywards Hill, with her brother-in-law calling 111.
"I called my midwife too, and said 'I think i'm having a baby today," says Pele, as she had been previously told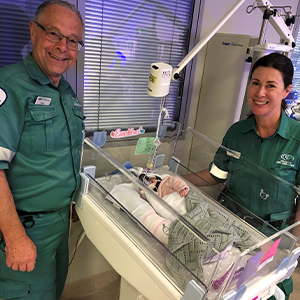 her pregnancy was high-risk, and all the signs for pre-term labour were there.
Paramedic crew Gary and Kate were first to arrive on scene, Gary had also radioed for an Intensive Care Paramedic, who was also on the way.
Kate says, they started readying themselves for any eventuality, including the resuscitation of a very small baby, on the side of a busy road, with a potentially distraught mother. Instead they found Pele in the back of the van with the baby close to arriving.
"On observation the baby was starting to crown and within a minute, I assisted in the delivery of a small pre-term 24-week-old baby," says Gary.
It had been a team effort with Kate initially prepping the ambulance – until the second year student accompanying them, came running to the ambulance asking for cord clamps.
"I grabbed my trauma bag, airway bag and portable O2 [oxygen] bag and rushed to the van," says Kate.
There she found Gary standing in the back of the van holding a tiny baby, "who had good colour, was moving and making noise, all of which were a great relief!" Kate clamped the cord and Gary put the baby on Pele's chest, skin-to skin.
"We set about getting mum and baby out of the van and into the ambulance, all the time attempting to keep baby warm because that's the most important thing at this point."
Gary says he had been ready and prepared to resuscitate the baby, should it be needed, but thankfully on delivery the baby had opened her eyes, cried and moved her arms and legs, much to his relief and to Pele's.
"She came out crying and I felt a little disbelief, but her crying reassured me that she was ok," says Pele.
With such a small patient the team had to improvise, as their monitoring equipment was too big. "We cut the ECG dots to make them smaller," says Gary.
He says the experience, though harrowing, was one of excitement and pleasure, at having such a great outcome.
Intensive Care Paramedic Nigel met the team on the way to Wellington Hospital and says the team had done a great job. Kate had been trying to chat to Pele's husband and help keep him calm as they made their way to Hospital.
He remembers the baby was lying on Pele's chest with the baby's body wrapped in Gladwrap (a preventative measure to prevent heat loss).
Pele says the whole time she had felt reassured and the paramedics had tried to make her laugh and distract her, which helped alleviate any stress or worry.
Pele was stable, says Nigel, "I could focus my attention on the baby, she was tiny – not much bigger than a pound of butter. The brightly coloured knitted newborn hat that was covering her head was hugely 'oversized', it could have easily encapsulated the whole of her curled-up body."
Nigel says his priority was assessing the baby's airway, breathing and circulation. He also considered what may have caused the premature labour. This is why, he says, a detailed history is very important.
"Premature babies are smaller than they would be, if they were born full-term. They may need help breathing and staying warm."
Extremely premature babies, as in this case are at the greatest risk for problems. Their organs and body systems can be underdeveloped and too immature to function well, says Nigel.
"Consequently, we closely monitored the baby's alertness, temperature, heart and breathing rates, colour, as well as oxygen levels, and then treated accordingly.
"The baby was holding her own with minimal support which surprised and delighted us all. Our focus then was to deliver mum and baby expediently to hospital."
Nigel, Kate and Gary have delivered a few babies in their time, and all felt very privileged to be present for such an important and significant part of the families' life.
Baby Evelina, is now at home and thriving says Pele, although she still needs oxygen and extra care, she is now 5kg and big enough to wear newborn clothing.
"It's been great to finally have her home and to be able to bond with her at home."
Pele is extremely grateful for the care she received, from the Wellington Free paramedics who treated her, to the nurses at Wellington Regional Hospital Neonatal Intensive Care Unit (NICU), and Lower Hutt Hospital Special Care Baby Unit (SCBU); who all took such great care of Evelina, until she returned home two-weeks-ago.
The whole experience has made her want to enter the medical profession even more, and she plans to enrol in a nursing degree next year, says Pele.