About Us
We are the only emergency ambulance service in greater Wellington and the Wairarapa, and the only ones in the country who are free.
Get Involved
We are the only emergency ambulance service in greater Wellington and the Wairarapa, and the only ones in the country who are free.
What we do
Our news
Celebrating te Wiki o te Reo Māori - Māori Language Week
Celebrating te Wiki o te Reo Māori - Māori Language Week

14 September 2021
"Nō Ngāi Tūhoe ōku tīpuna, Kei te noho au ki Te Whanganui-a-Tara."
"My ancestors are from Ngāi Tūhoe iwi, and I live in Wellington."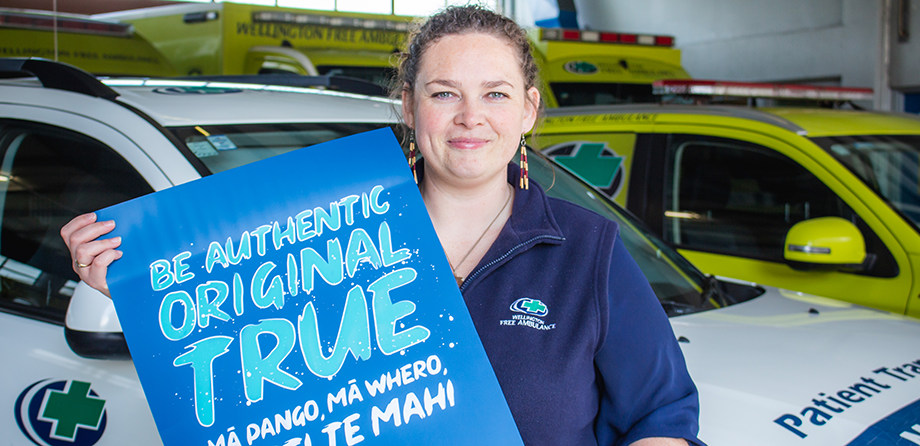 It's her ancestors that guide her says, Yvonne Gemmell in her newly developed role as Wellington Free Ambulance's, Kaiwhakatuwhera Kaupapa Māori.
It is a role that will see her develop relationships between the service and Kaupapa Māori.
The role is new, however, Yvonne is no stranger to Wellington Free. She started nine years ago as a call taker, and most recently patient transfer manager.
Starting today, her new role coincides perfectly with the start of te Wiki o te Reo Māori - Māori Language Week.
It's something extremely important to her, she says "It is an opportunity to speak te reo Māori in the workplace wherever I can, and an opportunity for Māori to express themselves in their language."
It's a time her wairua (soul) feels refreshed and filled with positivity as the week goes on, and more people feel comfortable to weave te reo Māori into their conversations.
"I use this week to learn new waiata (songs), have important kōrero (conversations) with my colleagues around te ao Māori and spend time with my whānau in te Taiao (the environment, nature).
To celebrate te Wiki o te Reo Māori, Wellington Free Ambulance would be providing resources to staff, encouraging conversations, and sharing kai (food), says Yvonne.
It was through her work, and study (she is currently completing a BA in Māori Studies through Victoria University), Yvonne noticed opportunity for a great partnership between Māori communities and Wellington Free Ambulance, and hence the new role.
"It became a real priority to me, we as a service paved the way for whakawhanaungatanga (forming relationships), kotahitanga (working together in unity) and manaakitanga (showing kindness and compassion in all that we do)."
These te ao Māori values - also embedded into our organisational values - support ongoing relationships between the service and Māori communities, and by extension all communities.
Yvonne's proposal for a Māori Health, Wellbeing and Engagement Strategy was welcomed by leadership at Wellington Free; their support signalled a way forward.
Wellington Free Ambulance Chief Executive Dave Robinson, says he is excited about the Kaiwhakatuwhera role.
"Our role at Wellington Free is to ensure positive health outcomes for everyone in our community and Kaiwhakatuwhera will be crucial in ensuring we produce positive health outcomes for Māori, and to achieve this we need to make sure we have strong relationships with iwi across the region."
Both Dave and Yvonne acknowledge it's an exciting opportunity to weave te ao Māori (the Māori worldview) into the organisational strategy, and keep this kaupapa in place for the future.
"It's widely understood Māori are over-represented in many health statistics and Wellington Free Ambulance has, for some time, wanted to work with iwi and hapū within our rohe (area) to see how we can help in turning these statistics around," says Yvonne.
"Our community is at the heart of everything we do and forming and improving relationships ensure permanent opportunities exist for Māori communities to work together with Wellington Free."
Future kaupapa (initiatives) at Wellington Free will create opportunities for learning for our staff; safe spaces to question, and learn about te ao Māori, says Yvonne.
"It's an absolute privilege to have this opportunity, to continue to work for such a well-respected service, and with the guidance of my tīpuna (ancestors), bring a large part of who I am into the organisation as well.
"It (the role) brings together two of my passions, and I am extremely excited to get started on this important mahi (work)."
Her role would transverse the greater Wellington and Wairarapa region.