About Us
We are the only emergency ambulance service in greater Wellington and the Wairarapa, and the only ones in the country who are free.
Get Involved
We are the only emergency ambulance service in greater Wellington and the Wairarapa, and the only ones in the country who are free.
What we do
Our news
Onesie Day 2021: Martin
Onesie Day 2021: Martin

02 August 2021
"I recall a paramedic asking me did I mind if they cut my boot off so they could see better the extent of my injuries, that he would be as gentle as he could. He told me they needed to stop my bleeding, and to try and save my foot. What an extraordinarily polite question, I thought, given the circumstances."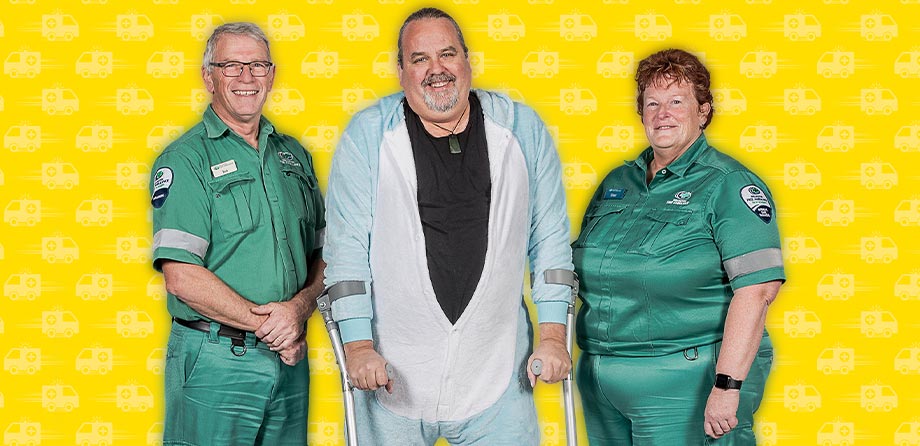 On what had been a glorious sunny and warm Saturday in Greytown, and a chance to catchup on some gardening, instead had left Martin seriously injured. Now as we all face another lockdown, Martin's story is a timely reminder to all that we are always here for you.

After grabbing an old aluminium ladder he had inherited when he bought his house, Martin had been trimming his boundary hedges, but with only metres left to go to finish the job, he heard a screech of metal, and felt the ladder begin to wobble beneath him. He instinctively threw the hedge trimmers away from himself just as the ladder collapsed.

"I didn't have time to think anything, suddenly I was on the ground."

Martin's left leg was tangled in the metal of the ladder. One minute he was gardening and the next he was in excruciating pain and unable to move. Martin didn't know it at the time but he was so badly injured that without immediate medical care he would lose his foot.
When he looked down at his leg he thought his foot appeared sprained. He thought "I'll need an ambulance". But his phone was inside the house.
He tried to stand, but couldn't get up. He tried to crawl, but something was wrong - his leg wasn't co-operating.
"I remember just staring at it, oddly not feeling any pain, but thinking I was now in a world of trouble and that my life had just dramatically changed. I lay back on the lawn, paused, then yelled for help."
Martin knew he needed help urgently. He called out and his neighbour, Sue, thankfully she heard him. She called 111 and stayed on the line with the Wellington Free Ambulance Call Taker. Another neighbour, Nicholla, came running over, having heard Martin's desperate shouts.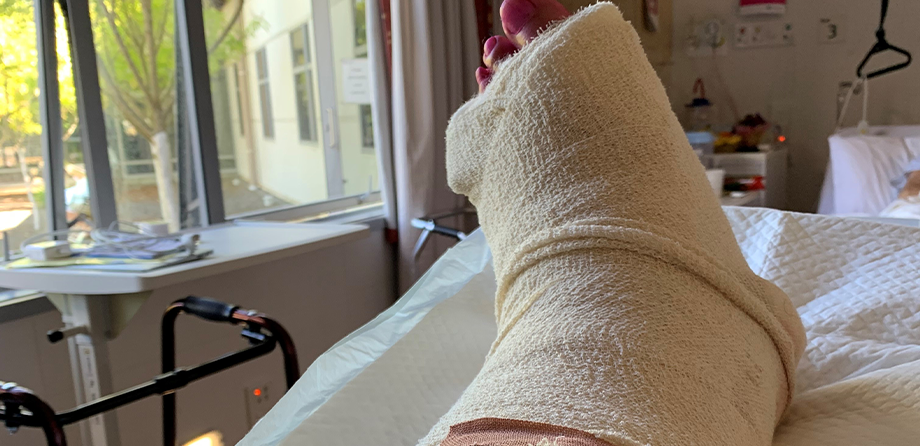 Martin said this was when he began to feel really scared. And that is when the pain really set in. Sue, Nicholla and Martin could all see Martin was losing a lot of blood.
Nicholla raced off and got her husband, Chris, who's a volunteer fire fighter. Using his first aid skills, Chris made some compresses and put them around Martin's horrific wounds in an attempt to slow the bleeding.
Like many of us, Martin had never required an ambulance before. But like most who call for an ambulance, Martin echoes their words: "I cannot describe the relief I felt when the paramedics arrived."
"I don't remember much after their arrival. What I do clearly remember though, is how calm, caring and compassionate the paramedics were, how reassured I felt, how my comfort was paramount."
"When I think back to that Saturday afternoon, I made a number of poor decisions that led to my accident however from when the ambulance arrived, so many things went right," says Martin.
"I am beyond grateful that we have a free ambulance service available to us. That when I needed help, they were there in time, and thanks to them I didn't bleed to death and though precarious, I still have my foot."
Martin recently donned a onesie to help us promote this year's Onesie Day. Keep an eye out for this year's posters around Wellington and the Wairarapa very soon.

Onesie Day 2021 is happening from 2-4 September. With your support, we can help keep the 'free' in Wellington Free Ambulance and raise enough to purchase an emergency Onesie Day branded ambulance that is fundraised by the community for the community. For more information, please go to www.onesieday.co.nz.