About Us
We are the only emergency ambulance service in greater Wellington and the Wairarapa, and the only ones in the country who are free.
Get Involved
We are the only emergency ambulance service in greater Wellington and the Wairarapa, and the only ones in the country who are free.
What we do
Our news
Our rescue Squad in action
Our rescue Squad in action

10 January 2020
Our Rescue Squad are specially trained paramedics who work as part of our region's search and rescue teams. They are equipped with 4WD vehicles, are highly qualified clinicians and sometimes trek for hours through bush day or night to reach people who are seriously injured.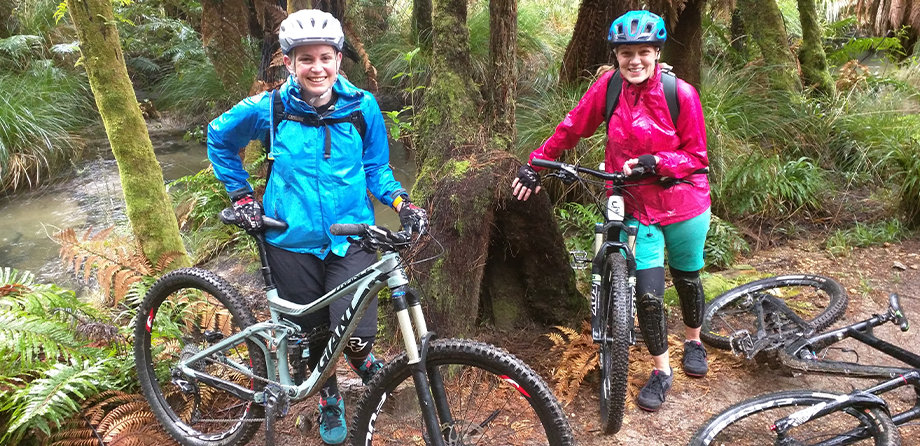 They work with a wide range of services to make sure they can reach, treat and transport patients in the most extreme of circumstances. Our partners include Fire and Emergency New Zealand, NZ Police, Land Search and Rescue, rangers and local search and rescue teams.
Like many Wellingtonians, Merewyn loves to get outside and enjoy the beautiful mountains, rivers, tracks and parks that surround our city. She is a keen mountain biker and unfortunately had an accident in Makara Park and needed our help.
"I was having a brilliant afternoon with a couple of good friends. Winter riding is slippery in the mud, flying through lush native forest and encouraging each other down technical descents. The next minute, my bike was gone from underneath me, I flew through the air and landed on my shoulder."
Merewyn had dislocated and broken her shoulder. She couldn't roll over or sit up and was in a lot of pain. To make things worse, Merewyn had fallen on one of the most remote tracks in the area and her friends could not get any cell phone reception to call for help. One of her friends stayed by her side, while the other walked up the track to find a signal and called 111.
When the call came through to our 111 clinical communications centre, one of our first priorities was to work out how we could get to Merewyn. The tracks leading to her were impossible for an ambulance to navigate and we couldn't reach her by helicopter, because of the low level cloud and pylons. They knew they needed to mobilise our Rescue Squad.
While the on–call paramedics who make up the rescue team were assembling their kit and prepping the vehicle, we sent another crew of paramedics in an ambulance. Jono and Melissa parked as close as they could and walked down the track to start providing immediate medical help to manage Merewyn's pain, keep her warm and ensure that her condition didn't deteriorate.
Our Rescue Squad paramedics Jimmy and Sam, also parked as close as possible and took a special stretcher built for rocky terrain. Overall it took 40 minutes before they could reach Merewyn and it had grown dark, making the next part of the rescue more challenging.
Merewyn was placed in the wheel stretcher, and slowly transported to the rescue vehicle. It took many hands to get Merewyn out safely – the Rescue Squad, Fire and Emergency NZ, Land Search and Rescue, and the local ranger. She was transferred onto the stretcher in the ambulance waiting outside the park, and finally taken to hospital.
It was a long road, but Merewyn is now fully recovered and back in the saddle.
We never know when the Rescue Squad will be needed next; but we can be ready for any eventuality with the right people, vehicles, equipment, and ongoing training.