About Us
We are the only emergency ambulance service in greater Wellington and the Wairarapa, and the only ones in the country who are free.
Get Involved
We are the only emergency ambulance service in greater Wellington and the Wairarapa, and the only ones in the country who are free.
What we do
Our news
Travelling safe with our Patient Transfer Service
Travelling safe with our Patient Transfer Service

30 November 2021
It's the memorable moments throughout the years, that mean Wellington Free Ambulance staff now feel like family, to Scottish couple Patrick (Pat) and Margaret.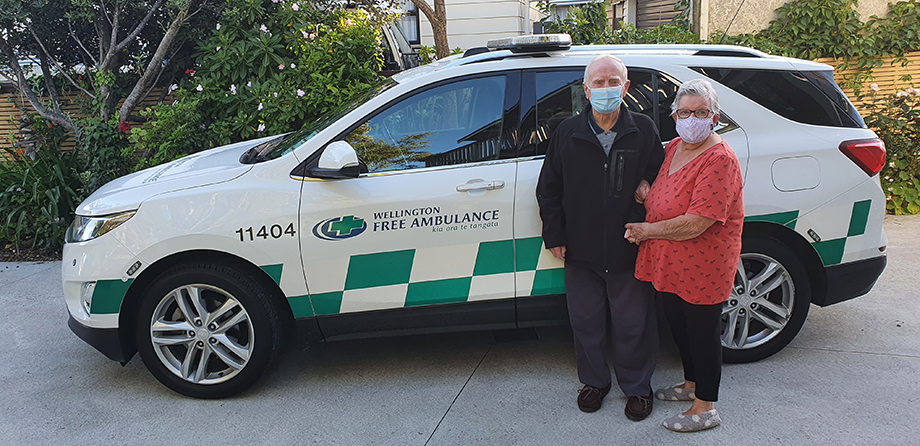 The couple live in Plimmerton and Wellington Free Ambulance transport Pat to his dialysis appointment three times a week. Margaret normally travels with him, but is unable to at present, due to COVID-19 restrictions.
"Unfortunately COVID-19 has changed everything for Pat and I," says Margaret.
"We always do everything together and now Pat goes to treatment without me, four hours a day, three times a week - that's been tough."
"I personally miss the little tiki tours in the car with the Patient Transfer Officers (PTOs) - we have a few laughs sometimes."
Margaret takes comfort in the knowledge staff will take care of Pat, when she's not there. "Wellington Free Ambulance, to us means we are safe."
"I know that when they come to get Pat they will take care of him and make sure he gets there safely. I don't have to worry about him falling or forgetting anything, whoever picks him up always takes care of him for me. They do more than they need to, to make sure he is safe."
"They are so good to Pat and I - we just love them all. Even the Clinical Communications Centre staff look out for us too!"
Transported by our Patient Transfer Service for nearly 10 years, the couple have got to know staff well and have in turn become fond "regulars" of the PTOs.
Patient Transfer Officer Nicole says Patrick and Margaret are beyond generous and thoughtful. She recalls giving them bags full of tangelos from her poppa's tree for them to enjoy, expecting nothing in return; she was surprised when Margaret whipped up some tangelo curd and lemon curd for her.
"They have big generous hearts," says Nicole "I always know if Patrick is receiving treatment that day because when I walk into station there's always baked goods for the crew and every Christmas, they deliver goodie bags to each station too."
It's something Margaret says she loves being able to do, to make morning tea for staff – it's her way of saying thanks, "for all that they do and for the way they take care of us."
Patient Transfer Officer and Relief Team Leader, Steven says Margaret often brings in treats including home baked goodies or cheese and crackers to take back to station and share with everyone. He knows there are many PTOs that could share stories of kindness from the pair.
"One morning when the traffic was particularly bad, due to a crash on SH1, Margaret was concerned that after I dropped them off at the Kenepuru dialysis unit, I would be stuck in traffic for ages as I headed back to town.
"She offered to give me her house keys, so I could go back to their house and make a cup of tea, while I waited for the traffic to clear!"
"I declined of course, but it was a lovely thought," says Steve.
Margaret jokes that she trusts them with their lives, so offering the house keys was a 'no brainer'.
Steven recalls another PTO telling the couple about their woes of trying to buy their first house and always getting outbid. The couple put the PTO in touch with a friend about to sell their house and they managed to all agree on a deal before the house went on the market.
Margaret says, helping them find a new home was a definitely a highlight.
"We enjoy their (PTOs) company and get excited when the young drivers get permanent places, or when there's a new baby; my knitting needles get busy," she says.
"I loved seeing wedding photos of when, Maria married Andy (Wellington Free Ambulance's Medical Director), and updating Alan whenever I read a great book, so he can tell his wife."
"You can see why we think of them as ours, sometimes I think they fight over who's going to take us home!"
Patient Transfer Officer, Maria admits they do indeed negotiate over who will transport the couple home. "They are lovely folk who are 'salt of the earth'," she says.
"When they heard we were marrying, Margaret bought us a wee wedding gift (silver coasters)."
"I made sure to thank her by popping in one day as Dr Andy and I were passing their home.
It was important to me to show they were more than just the diagnosis, and real people."
The couple are approaching their 60th wedding anniversary next year, which is quite an achievement Margaret thinks.
Her advice for a long and successful marriage is to be kind to each other. "We look out for each other and have a laugh when things turn pear shaped."
"When you need to say sorry, say it!" she says.