About Us
We are the only emergency ambulance service in greater Wellington and the Wairarapa, and the only ones in the country who are free.
Get Involved
We are the only emergency ambulance service in greater Wellington and the Wairarapa, and the only ones in the country who are free.
What we do
Amrit and Kamal

04 May 2022
Amrit and Kamal
Amrit Chavda is a humble, generous, and deeply spiritual man, who, despite his numerous health challenges, at 80 years old describes himself as the happiest man in the world.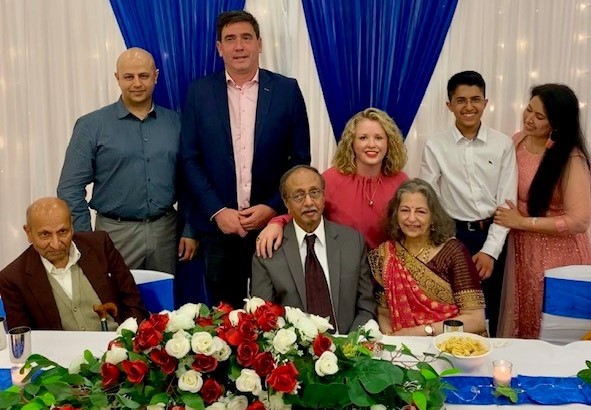 Amrit attributes this happiness and contentment to Kamal, his wife of 50 years who has been steadfastly by his side since they first met many years ago as teenagers in India.
Amrit and Kamal share a forbidden love story. Meeting as teenagers at a community class, they instantly knew they were soul mates. However, religious differences meant they could not marry and were prevented from seeing each other. Cousins helped them share letters keeping their connection and eventually, with the blessing of their families, they were allowed to marry.
Arriving from Mumbai on a winter's day in June 1976 with a small baby, Kamal remembers trying to keep hold of her yellow sari as the wind blew from every direction across the tarmac at Wellington airport. They agreed on a three-month trial and are still here 45 years later, they love it and reflect, "New Zealand has looked after us so very well."
The importance of giving and supporting charity is something Amrit was taught from his father at a young age. He firmly believes we all have something to give. "We should all donate, especially while we are alive to do it and see the impact because you can't take it with you". During their 25 years running a local business Amrit and Kamal supported many community groups from local schools and charities to local children raising funds.
Motivated by his need for Wellington Free Ambulance services after his second heart attack and understanding how important it is for people to get help when they need it. Amrit and Kamal have made a very generous donation of $250,000 that will fund a new ambulance for the people of Greater Wellington and Wairarapa due to arrive mid-year.
Amrit encourages everyone to give what they can – especially members of the Indian community. "$200 - $300 or more is not a big amount compared to things like buying a house, anyone can do it."
Kamal explained "Wellington Free Ambulance call takers are so reassuring whilst you are waiting with them on the phone for the paramedics to arrive, they have helped me know exactly what I need to do and then the angels in green arrive and they come so fast and they are free," when thinking about the last time they had to call for assistance.
Amrit and Kamal recently celebrated 50 years of marriage with a party for their family and friends. Despite being organised at the last minute due to Amrit being in hospital, 100 people whom he personally invited made the effort to attend. This shows the love and respect in which they are held by all that know them. Claire from Wellington Free Ambulance was part of the golden wedding anniversary celebrations and comments, 'during the speeches there were tears and laughter, you could feel the enormous love for Amrit and Kamal and the whole evening Amrit was smiling.' The secret to their 50 years together, "Look up to and look after each other and listen." Encourages Amrit.
Thank you, Amrit and Kamal, for so generously supporting our work.
If you would like to discuss making a life-changing donation to Wellington Free Ambulance, please contact Claire Carruthers at [email protected]