About Us
We are the only emergency ambulance service in greater Wellington and the Wairarapa, and the only ones in the country who are free.
Get Involved
We are the only emergency ambulance service in greater Wellington and the Wairarapa, and the only ones in the country who are free.
What we do
Our news
An urgent response when minutes mattered
An urgent response when minutes mattered

11 May 2021
On 29 January, Paramedics Rebecca, Emma and Sam had an urgent start to their day. Julie had called 111 for her husband, 59-year-old Gerald; he was unresponsive and needed urgent help. He was having a cardiac arrest.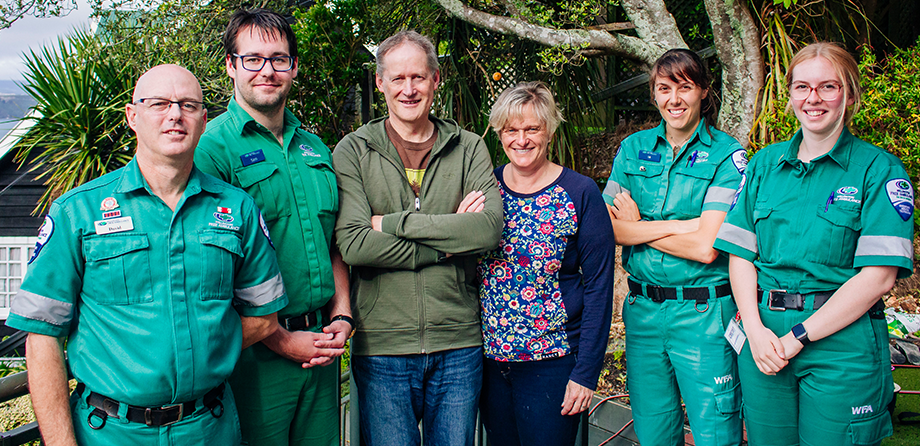 Earlier that morning, Julie noticed that Gerald hadn't said goodbye yet so she went upstairs to check if he'd left for work. He was still in bed and didn't look well.
"I had a feeling something wasn't right so made an appointment for him to see the doctor later that morning; but I still felt uncomfortable," Julie explained.
Gerald was a fit and healthy family man. In fact the whole family had just walked the gorgeous Heaphy Track; unfortunately, it never occurred to Julie what was going to happen next.
Leaving Gerald to sleep, she heard a strange noise coming from their bedroom. "I realised it was Gerald and ran into the bedroom to find him unconscious and unresponsive. I ran downstairs and told our builder to call an ambulance."
In a panic, Julie called out to her son, Tim, and they both ran back upstairs. They got Gerald on to the floor and Julie started CPR. Andrew, the builder, then ran in with the 111 call taker on the phone. Neither Julie, Tim, nor Andrew knew what was happening to Gerald but they knew it was a desperate situation.
The 111 call taker began to relay instructions to help them perform CPR efficiently and keep going whilst Paramedics Rebecca, Emma and Sam headed their way.
Knowing they were in a race against time, Rebecca, Emma and Sam made their way to Gerald as fast as they could with all their equipment.
Julie felt a moment of relief when she saw them walk in. Gerald was in a really bad way, but because Julie and Andrew had already provided CPR in the minutes following Gerald's cardiac arrest, they had given him a chance. Now it was our turn.
For the next 34 minutes, Rebecca, Emma and Sam worked tirelessly to give Gerald the best possible chance at survival. By now, another Wellington Free Ambulance crew with Paramedics David and Amanda had arrived to assist.
As the minutes ticked by, the team did all they could; they ensured Gerald got the right medication and continued CPR.
"There is definitely a change of pace when you are being sent to a cardiac arrest; it's one of the most serious jobs that we go to. One of the first things that goes through my mind is to make sure all the plans are in place for the best possible outcome," Rebecca explained.
With everyone momentarily paused, the shock was delivered and there it was… the heartbeat they'd been hoping for. However, just 12 minutes later this heartbeat disappeared.
Everyone continued providing the medical intervention that Gerald needed. No one was prepared to stop trying.
Julie says: "I knew Gerald was getting the best possible care and that the paramedics were doing all they could; I just kept thinking 'I'm not ready for you to go yet; you can do this'."
Finally, after 11 more minutes of CPR and four more shocks from the defibrillator, Gerald's heart started to beat independently.
Without immediate CPR from Julie and Andrew, the expert medical care of our paramedics, and the essential, life-saving LIFEPAK defibrillator from the ambulance, Gerald's heart would not have started beating again.
Once the team had got Gerald's heart started for the second time, there was a lot they needed to do in order to get him to the hospital safely.
"We'd already sent important information about Gerald and what was happening via the LIFEPAK through to the hospital. This was to speed up the process once we arrived. Now it was important we got Gerald to the specialists at hospital as quickly as we could," Rebecca said.
When Julie heard they'd stabilised him and were transporting him, she was so relieved. "I knew this was a good sign. I knew it was important to focus on the next step knowing each one was important in Gerald surviving."
Gerald survived his life-threatening ordeal and is now on the road to recovery.
Like the thousands of patients helped by our crews before him Gerald is incredibly grateful. "I really appreciate what the first responders did for me that day. I will always be grateful for the role Wellington Free Ambulance played in saving my life."
Julie's words are ringing in my head as I type: "It has been so reassuring to know Wellington Free Ambulance is only a phone call away and that they have the right equipment and people to handle a crisis situation at any time of the day or night."
This year we're upgrading our ageing equipment to ensure we can provide the highest level of clinical care in the pre-hospital, ambulance environment.
Visit www.wfa.org.nz/donate to help us ensure Paramedics Rebecca and David have the state-of-the-art, new Corpuls3 defibrillators next time we get a desperate call for help.