About Us
We are the only emergency ambulance service in greater Wellington and the Wairarapa, and the only ones in the country who are free.
Get Involved
We are the only emergency ambulance service in greater Wellington and the Wairarapa, and the only ones in the country who are free.
What we do
Our news
Celebrating Father's Day
Celebrating Father's Day

04 September 2021
We celebrate Father's Day this year with two of our team, Father and son Mike and Alex. Wellington Free Ambulance Emergency Medical Technician Mike says when he became a dad he knew he wanted to produce a couple of young men that could do or be anything they wanted to be.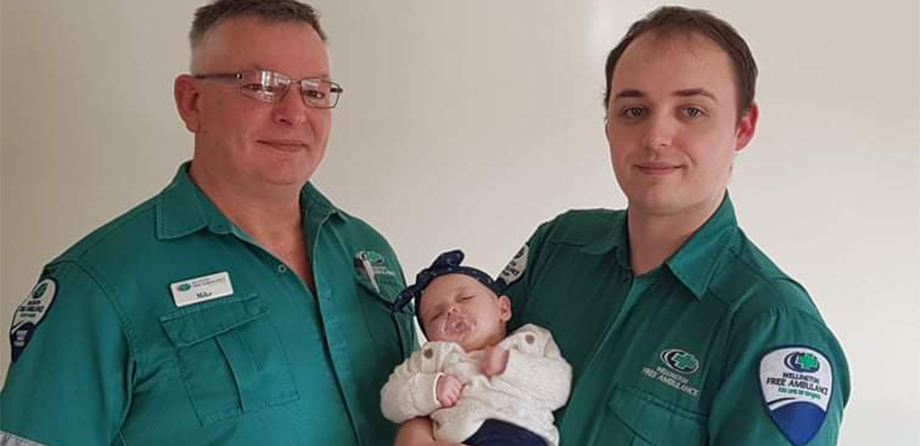 Looking back on his time raising two boys, Mike says it was important to him to put small challenges in front of his children to get their brains working and to teach them right from wrong, so they could make good choices.
"I used my experiences, good and bad, as examples but I let them make their own mistakes which is important. As my grandfather used to say to me, 'a man who never makes a mistake, never made a thing in his life.'"
Fatherhood is a huge change for any parent, says Mike, "talk about growing up overnight. Your whole focus changes to, 'what can I do for this little human?' and supporting each other to get through the early stages."
Mike's son Alex now works for Wellington Free as a Patient Transfer Officer (PTO), and recently become a dad himself, making Mike a proud granddad to 10-week-old Amelia.
"Amelia is our first grandchild and I'm so glad she is happy and healthy," says Mike.
For Alex being a new dad is an adventure, and all the more special as Amelia is his first child. "The best thing about being a father is seeing a smile on your child's face and the wonderful eye contact. It's knowing you are doing the best job you can; no one is perfect - you can only be guided by your values."
Alex says some of the advice he received prior to becoming a dad was helpful, like not being afraid to ask for help or support from family.
"I didn't expect parenthood to be so rewarding, my nieces are two and four-years-old and are already walking and talking, so learning to pick up on Amelia's baby cues was a challenge, but a rewarding one when you figure it out at 4am and she goes back to sleep. Amelia is a very easy and content baby and is happy to be handled by anyone but in the last couple of weeks a certain stubbornness has emerged," he says.
Despite the sleepless nights, Alex now has the opportunity to pass on the values he learnt as a young child.
Growing up I learned how to work with my hands to repair things and I learned to "do it once and do it right!"
My dad taught me that if you have given something your very best effort, and you don't succeed, you know in yourself you gave it your all.
Even though father and son both work at Wellington Free; they rarely see each other at work, "when we do catch up, it's normally not for long, as one or both of us will be on our way to the next job."
Mike says it might sound like a cliché, but what he loves about his job is the ability to make someone's life better. "I want the best outcomes for all my patients because I genuinely care. Whether it is a patient in critical condition or a little old lady that needs assistance; the ability to make someone's life that little bit better, makes me happy."
For Alex, working at Wellington Free, for the last six-and-a-half years has been amazing, "the camaraderie in our Patient Transfer Service is something else. When you have a rough day it's easy to discuss, as everyone has been there and experienced difficult jobs too."
He says the variety in his role is very rewarding, "be it transfers to the Neonatal Intensive Care Unit, to palliative care or a simple transfer between hospitals, I have found everyone has a story and everyone's story deserves to be heard."
This Father's Day, Mike says is likely to be low key, "I'm happy as long as the boys drop in or make a phone call, they are both adults now so the focus changes a bit."
"My other son is doing a nursing degree at the moment so I'm pretty happy with how both our boys are doing," he says.
If he's not working Alex says he may celebrate Father's Day this year with breakfast out and spend the day with family.