About Us
We are the only emergency ambulance service in greater Wellington and the Wairarapa, and the only ones in the country who are free.
Get Involved
We are the only emergency ambulance service in greater Wellington and the Wairarapa, and the only ones in the country who are free.
What we do
Our news
Jeremy's second chance at life
Jeremy's second chance at life

12 October 2021
When Jeremy drove home from football one Sunday afternoon, he felt a strange tightness in his chest. The pain was concerning but only lasted about 10 minutes so he didn't think much more of it.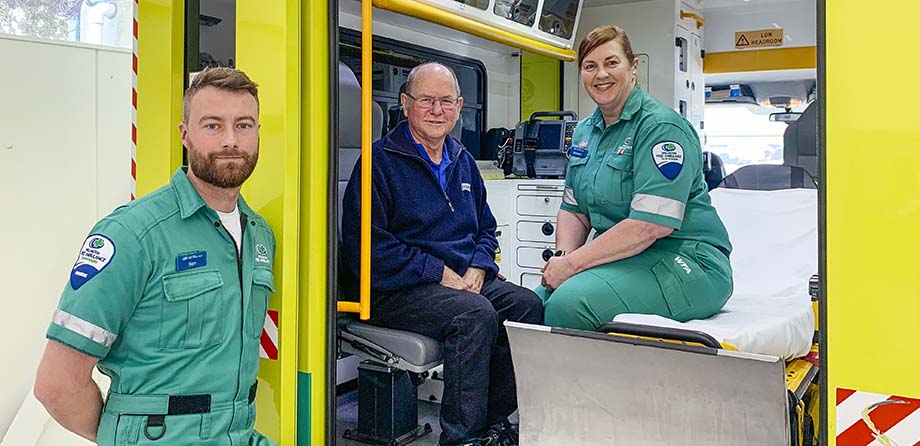 The next morning, as Jeremy got up for work, he felt the same pain. But again, it only lasted for a short time so he continued getting ready.
He arrived at work around 8.30am and the pain returned; this time it was quite severe and he had to sit down.
"I could feel a tingling sensation in both arms and I said to my boss 'this is not good'. I phoned Team Medical, they advised I should call an ambulance if it continues which was good advice, but because they are only five minutes down the road my boss drove me down to get checked out."
By the time, Jeremy arrived at Team Medical he was complaining of quite severe central chest pain. The GP did some immediate treatment but called for an urgent ambulance to transport Jeremy to Wellington Hospital for further treatment.
Paramedics Bronwyn and Ben were the ones to respond from Wellington Free Ambulance.
They assessed Jeremy and proceeded to move him into the ambulance. Jeremy's pain had subsided but both Bronwyn and Ben knew he needed to go to hospital for further tests.
Ben took another look at what Jeremy's heart was doing. The ECG test showed some changes that Ben wanted to look into, however advised Bronwyn that she could start driving towards Wellington.
Jeremy was relaxed and chatty as they set off – this was a good sign. Then as Ben started to relay the ECG changes to Bronwyn he noticed that Jeremy had gone rigid and was breathing abnormally.
Jeremy's vital signs were not good. It showed his heart had gone into a ventricular tachycardia – a fast and very abnormal heartrate.
Bronwyn pulled over and went to assist Ben. Because Jeremy was unresponsive, this confirmed he was having a cardiac arrest. Bronwyn and Ben applied the pads and shocked Jeremy's heart using the defibrillator.
Fortunately Jeremy's heartrate reverted back to a normal rhythm after one shock and did not require CPR.
Both Ben and Bronwyn explain this highlights the importance of immediate intervention and how it can significantly increase someone's chance of survival. The truth is that without expert medical care of our paramedics and the essential, life-saving defibrillator in the ambulance, Jeremy would not have survived.
"During a cardiac arrest, time is of high importance. It is a critical event in which every second counts. The high level of clinical care is important as the chain of survival involves two key elements - early recognition, early defibrillation," Bronwyn says.
Most often a cardiac arrest is sudden and unexpected. For every minute a patient is in cardiac arrest, not receiving CPR or AED shock, chances of survival drop by 10%. That is why everyone in our community should know CPR and the location of their nearest AED.
"Emergencies of this acuity is what our job is primarily all about. They give us the opportunity to directly influence the patient's outcome in a positive way.
"It is a rare privilege to be able to speak to a patient who was as sick as Jeremy was and see him continue his life with his family. It's a reminder of why we do the job," Ben says.
Jeremy is on the road to recovery and is now back to work; he is also slowly getting back into referring games of football.
Like the thousands of patients helped by our crews before him, Jeremy is incredibly grateful.
"I consider myself reasonably fit – I'm a football referee and had previously been given the all clear from the doctor. At only 64, the lesson is to listen to your body; don't have a she'll be right attitude and seek help if you're unwell.
It's pretty scary to know my life was on the line but extremely grateful to the wonderful paramedics in the ambulance who saved my life. I will be forever grateful to the team at Wellington Free Ambulance, and Team Medical," Jeremy says.
These days, Jeremy says his view on life is that every day is a bonus – and he doesn't sweat the small stuff. "I've been given a second chance at life."
We are sharing Jeremy's story as part of Restart a Heart Day (16 October) www.restartaheart.net
To mark this worldwide day of awareness we are encouraging all people in the Greater Wellington and Wairarapa region to learn CPR and download the AED Locations app. You never know when someone in your family or community might need these potentially lifesaving resources.
Find out more about our Lloyd Morrison Heartbeat CPR programme for schools, businesses and community groups on our website: www.wfa.org.nz/heartbeat
You can support Wellington Free Ambulance to continue to be here for people like Jeremy by making a donation today. Each year we must raise more than $7M to ensure services remain free of charge to anyone who needs us. Thank you for your support.