About Us
We are the only emergency ambulance service in greater Wellington and the Wairarapa, and the only ones in the country who are free.
Get Involved
We are the only emergency ambulance service in greater Wellington and the Wairarapa, and the only ones in the country who are free.
What we do
Our news
Meet Kevin - Graduate Paramedic
Meet Kevin - Graduate Paramedic

08 December 2022
Meet Kevin - Graduate Paramedic
Last month, we welcomed twenty new graduate paramedics to Wellington Free Ambulance. This is the biggest intake of graduate paramedics we have ever had, and will provide significant benefits to our community.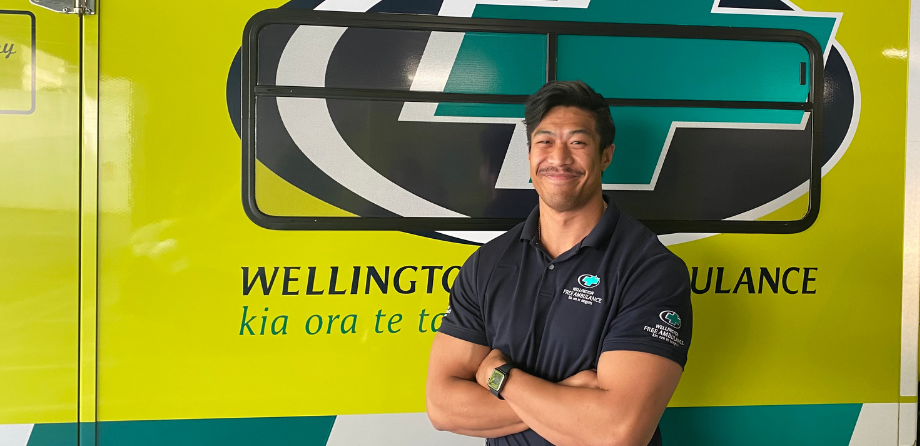 Kevin is one of the new graduates. His interest in paramedicine goes back many years, beginning with some CPR training he received at a school conference in Year 8. This was a life-changing moment for Kevin – it was the first time he had been introduced to medical work and it planted the seed for a future career in his mind.
By the time he was in Year 10 he knew he wanted to be a paramedic.
"I just wanted to help people," says Kevin.
Kevin originally planned to go straight from school to Whitireia to study the Bachelor of Health Science (Paramedic) programme but after being offered a scholarship to go to Otago to study Biomedical Science, he chose to take that option first. After a gap year, he followed up his first degree with the Paramedicine degree at Whitireia.
"I loved my time at Otago, the lab coats, the dissections, but my study at Whitireia was also really great. You go on placements, and it helps you comprehend and understand everything much more, everything you've been learning makes sense."
While Kevin was on his Whitireia placements, he especially enjoyed knowing that he was making people feel comfortable and safe. There was one particularly difficult moment early on, when he was attending an incident and realised one of the patients was someone he knew.
"I looked down and did a double take," recalls Kevin. "Then my training kicked in. I knew I was capable of looking after him really well, and I knew he'd be ok."
While Kevin has been studying, he has also been working part-time with our Patient Transfer Service, transporting patients to and from their medical appointments.
"I've been able to get to know some of the regular patients really well," says Kevin. "I've been asking some of the older patients what's the one piece of advice they would give younger people. There's been a really common theme in their answers - appreciate every day and take every opportunity. They've given me so much to think about and it's been a great chance to learn and reflect."
When Kevin was offered a position as a Graduate Paramedic at Wellington Free Ambulance he says, "I was ecstatic! It was everything I'd worked for."
Head of Emergency Ambulance Services Kate Worthington, comments, "This is a really exciting time for paramedicine, and we are thrilled to have so many new graduates on board. As registered health professionals we are in a very privileged position, meeting people from all walks of life and helping them in their time of need. Our experienced staff are excited to bring along this next generation of paramedics."
Kevin and the other new graduates have now begun our one year graduate programme, which sees them matched with a preceptor, an experienced paramedic who will guide and support them as they adjust to the new role.
Kevin's preceptor, Rodney Parnell, says "I'm really looking forward to working with Kevin in his new role. When you join Wellington Free Ambulance, you become part of a long line of innovators, leaders, and inspiring clinicians. Because of our continued efforts to develop, patients hold a lot of trust in us, and we operate with an expanding scope of practice. Being a preceptor means I am part of how our newest paramedics take up that challenge."
"I hope to help our graduate paramedics find not only the tools be masters of their craft, but also the tools to adapt to the ever-changing face of our profession. I am excited when I meet new graduate paramedics like Kevin, because I get the opportunity to see the future leaders of Wellington Free Ambulance and the sector we work in," says Rodney.
For Kevin, the opportunity feels like more than just a job. "It's like a dream come true, it's everything I've worked hard for," he says.
To anyone considering a career in paramedicine, Kevin says "100% do it. It's life changing."
To find out more about becoming a Paramedic with Wellington Free Ambulance, click here.