About Us
We are the only emergency ambulance service in greater Wellington and the Wairarapa, and the only ones in the country who are free.
Get Involved
We are the only emergency ambulance service in greater Wellington and the Wairarapa, and the only ones in the country who are free.
What we do
Our news
National Volunteer Week: Deepak
National Volunteer Week: Deepak

24 June 2021
Volunteering and stepping outside of his comfort zone helped Wellington Free Ambulance Emergency Medical Dispatcher, Deepak open up to new ideas and become more perceptive and empathetic.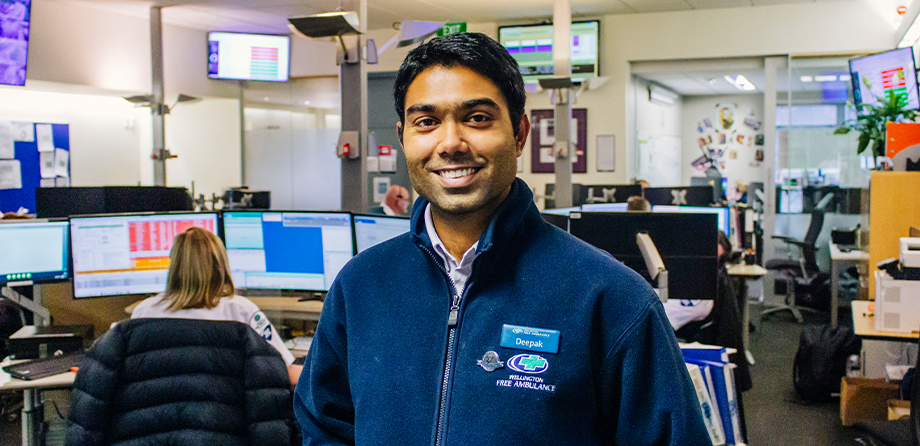 Deepak volunteers for social enterprise, Roadworn Upcyclers who make belts and accessories out of recycled tyres and are created by members of the homeless community in Wellington.
As their Sales and Marketing Manager, Deepak helps to promote and sell the upcycled products at farmers and vintage markets. He also advises on future strategy and branding of the enterprise, along with managing their website and social media.
As an Emergency Medical Dispatcher, Deepak says you can affect a person's life in a tangible way and volunteering has only added to his experiences and transferable skills.
"I am learning to listen to other people instead of just hearing them," he says.
"Making a patient's day even a tiny bit tolerable is an accomplishment that I cannot get working in any other industry, with the skills that I possess," Deepak says.
Deepak's motivation to volunteer came from seeing what people could achieve and he says volunteering for a relatively new enterprise - one with fresh new ideas, helps keep him motivated.
"On one hand, creators come up with ingenious products like dog collars, clothes hangers, sunglass cases, belts and other accessories out of used bicycle tyres that would otherwise end up in landfill; on the other hand this avenue gives them a forum to express creativity and provide them with sense of community."
He says a third of the price of the product goes directly to the creators.
"Every single creator who makes the products has had a rich and interesting life and talking to them about life, love and loss is what stimulates me," says Deepak.
As a volunteer, Deepak has had many memorable moments, "selling my first belt at the Harbourside Market was an incredible experience; knowing that I was responsible for selling products made by someone else, with love and creativity was remarkably satisfying."
Another one, he says was when one of the creators taught him how to use a hammer properly.
Deepak says the best thing about volunteering is meeting interesting people from all walks of life.
"Every day is a new experience and I have learnt new skills, that I wouldn't have, had it not been for volunteering."
Deepak thinks everyone should consider volunteering, because in the larger scheme of things, it saves everyone money, he says.
"Volunteers save four billion dollars for the country every year."
On a personal level it expands ones horizons to different possibilities," Deepak says.
Fancy joining Deepak as a volunteer? If you're interested in volunteering with Wellington Free Ambulance you can find more on our volunteer page.
If you're keen to help your community, we would love to hear from you.