About Us
We are the only emergency ambulance service in greater Wellington and the Wairarapa, and the only ones in the country who are free.
Get Involved
We are the only emergency ambulance service in greater Wellington and the Wairarapa, and the only ones in the country who are free.
What we do
Our news
National Volunteer Week: Hugh
National Volunteer Week: Hugh

22 June 2021
When Wellington Free Ambulance Emergency Medical Call Taker Hugh first started volunteering as an Event Medic, he was looking for a way to give back to the community while doing something he enjoyed.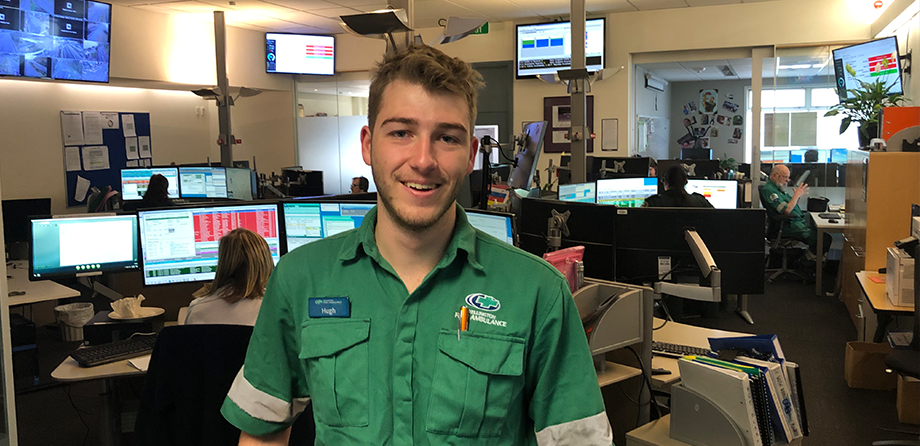 "The ambulance service really appealed to me as you get the opportunity to give back to a huge range of people and advance your skills while doing it," says Hugh.
"Not only are you volunteering your time to help an organisation, you are volunteering to help an organisation that helps so many other people."
Our Event Medics are at the heart of our community work. They cover a variety of sporting, music and community events every week, and even back up our front line crews in emergencies.
This week we celebrate our incredible volunteers as part of National Volunteer Week 2021.
Hugh believes people should volunteer because it's an opportunity to help others, and foster a sense of community pride and spirit. "When you volunteer, you're helping other people in your community and making a difference."
Community engagement is a highlight for him too, educating people on what Wellington Free does, and reassuring people that "you can always call us if you need us."
At larger events Hugh's had the opportunity to work as Officer in Command; planning how to best deliver care to the community with the team around him to ensure a safe and successful event.
In many ways his two roles complement one another, as communication is essential to both.
"Often people will not remember what you did for them but they will remember how you talked to them and how you treated them."
"Communication is a really important part of my role both as an Emergency Call Taker and as an Event Medic and the opportunity to work with patients both face-to-face and over the phone enhances those skills."
"I enjoy being able to help people, never knowing what situation will present with each call." There is a huge variety in the types of calls our team take, from giving instructions on how to birth a baby, managing a cut or open wound, to giving instructions on CPR while an ambulance is on the way.
Often, when call taking I'm able to visualise and understand what the caller is talking about as I've had the opportunity to treat similar things previously, says Hugh.
Event Medics attend anything from small community events to large concerts and sporting events, providing medical cover for our communities.
"We get to represent Wellington Free at events and there's always lots of interest in the ambulance service; one of my favourite parts of being an event medic is just getting to talk with people."
At events we see a whole range of injuries and have to be prepared for all types of situations, we can refer patients on to more expert care or arrange for ambulance transport to hospital if required.
"Having an impact on people's lives is an amazing experience," says Hugh.
"I love the culture at Wellington Free, we all have one goal and that is to provide the best possible care and services to our patients."
Fancy joining Hugh and the Event Medic team? If you're interested in volunteering with Wellington Free Ambulance can find more on our volunteer page.
If you're keen to help your community, we would love to hear from you.