About Us
We are the only emergency ambulance service in greater Wellington and the Wairarapa, and the only ones in the country who are free.
Get Involved
We are the only emergency ambulance service in greater Wellington and the Wairarapa, and the only ones in the country who are free.
What we do
Our news
Onesie Day 2021: Luke
Onesie Day 2021: Luke

02 August 2021
Two years ago, 19-year-old Luke's life changed in an instant. Luke and a group of friends were riding a motorbike along part of the Hutt River when he fell off. Not wearing a helmet, his injuries were serious. His friends rushed over and immediately called 111.
"When I got a call from one of Luke's friends, I knew it was serious," says mum, Lou. "In my head I knew it was going to be bad, but my heart hoped it wasn't."
Paramedics Wendy and Kayleigh were first on scene. They worked quickly and efficiently to help Luke; there was a lot of blood and it was critical they got him to hospital as soon as they could.
"From memory, this was one of our first jobs of our night shift. It was early evening, just after 6pm; it was still light, but the sun was setting.
"Luke was unconscious. We knew we needed to get him off the river bed and into the ambulance as soon as possible. It was hard not to think that Luke's injuries were potentially too serious for him to survive however, we did everything we could to help him," Wendy explains.
Wendy and Kayleigh got Luke into the ambulance. He was in a critical and unstable condition. They called for backup knowing they'd need assistance with an airway management procedure called Rapid sequence intubation (RSI).
Minutes later, Flight Paramedic Nigel along with Deputy Medical Director Dr O'Byrne arrived. They helped put Luke into an induced coma so his breathing could be safely and manually managed on route to hospital.
They arrived at hospital and Luke went straight into a resuscitation room. There was a huge team of doctors and nurses waiting to take over from Wendy and Kayleigh; from here Luke became their patient.
Luke spent seven weeks in hospital; he'd suffered a subdural haemorrhage and traumatic head injuries.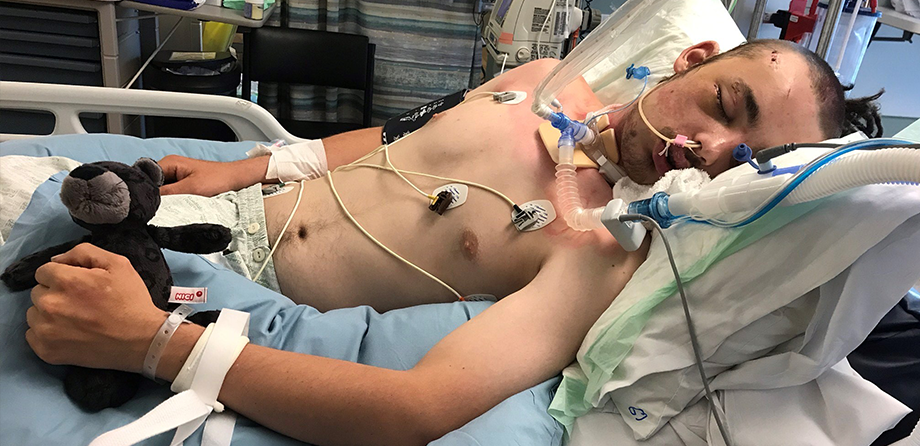 Lou explains it was devastating to see her son in that condition; it took a while to sink in. "It was just shocking to see the severity of his injuries."
"I remember being told that Luke might potentially never walk or talk on his own again as a result of the injuries he'd sustained."
Fortunately Luke pulled through and even though his recovery is ongoing, both he and his mum know the outcome could have been a lot worse.
"We knew it was going to be a journey. I know the recovery has been challenging but Luke's doing well. I'm just grateful everything aligned that night.
"Without the involvement of Wellington Free Ambulance, especially Wendy and Kayleigh, Luke would not be here today," Lou says.
"There's not enough money, words or chocolate that could ever say how much I appreciate what they did for me that day," Luke adds.
Wendy explains it really felt good to hear from Luke.
"It's hard for us to follow up on patients and although I knew he had survived the night, I had no idea what his outcome was.
"To actually meet him and his mum, and to be able to answer his questions was fantastic. He had lots of questions about what we'd done.
"To know he was alive and recovering was heart-warming," Wendy says.
Luke recently donned a onesie to help us promote this year's Onesie Day. Keep an eye out for this year's posters around Wellington and the Wairarapa very soon.

Onesie Day 2021 is happening from 2-4 September. With your support, we can help keep the 'free' in Wellington Free Ambulance and raise enough to purchase a special Onesie Day branded ambulance that is fundraised by the community for the community. For more information, please go to www.onesieday.co.nz.