About Us
We are the only emergency ambulance service in greater Wellington and the Wairarapa, and the only ones in the country who are free.
Get Involved
We are the only emergency ambulance service in greater Wellington and the Wairarapa, and the only ones in the country who are free.
What we do
Our news
Rosemary's Story - "I was no longer just an observer"
Rosemary's Story - "I was no longer just an observer"

06 March 2023
Rosemary's Story - "I was no longer just an observer"
It was a sunny Thursday morning and Rosemary was at work.

"I was in the staff kitchen making myself a bowl of oatmeal for breakfast. Next thing, I felt a pain in the centre of my chest. I didn't think too much of it at first and kept rubbing it, thinking it was an air bubble," recalls Rosemary.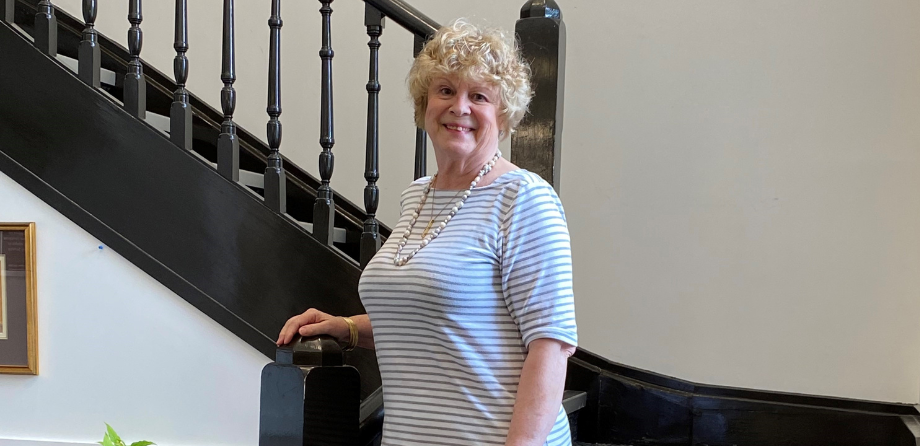 But the pain began to get worse and moved across to the left side of Rosemary's chest. "A colleague saw me doubled over and asked if I was alright," remembers Rosemary. "Seeing that I obviously wasn't, he took me to the staff room to lie down."
Rosemary works for an organisation which provides care for people living with disabilities, and by a stroke of luck, Rosemary's doctor happened to be visiting one of the residents that day.
The doctor took Rosemary's blood pressure, and immediately asked for Wellington Free Ambulance to be called. "I was given aspirin and 2 squirts under the tongue and the pain started to dissipate. I began to wonder if I was causing a lot of fuss for nothing," says Rosemary.
"Very soon after the Wellington Free Ambulance arrived with the kindest team on board," remarks Rosemary.
The crew who responded that day included Graduate Paramedic Grace; and after assessing Rosemary, they explained to her that they needed to transport her to hospital.
"Once I had been loaded on board, I commented to one of the paramedics that the ambulance looked brand new and he told me it was indeed and had been donated by a lovely family. I asked if it was the Norwood family, and he confirmed that yes it was!" remembers Rosemary.
"I was aware of the Norwood's donation. In fact, my daughter and I had passed it in Newtown the day before and we commented on what a lovely gesture it was to donate something so vital to our community – little did I know that I would be a passenger in that same vehicle the following day!"
At Rosemary's workplace, the staff need to call on the services of Wellington Free Ambulance on a regular basis.
"I have observed on numerous occasions how the various teams have handled each and every resident with the same care and compassion, even when at times the situation has proved very confronting for them. I have always had the utmost respect and admiration for the people who make this their career and often have to endure very unpleasant circumstances."
"So here I was – no longer just an observer, but getting to experience first-hand an experience that so many of our residents have had in the past," says Rosemary.
"I was taken care of with such empathy and compassion and felt safe and in good hands. The whole way to Wellington Hospital, I was monitored, reassured and kept informed of what was happening. It was 5 Star treatment, and I felt very fortunate to have been afforded the privilege of being cared for by Wellington Free Ambulance."
"The paramedics, Tony and Grace, stayed with me right up until I was admitted to ED and I would like to thank them once again for all they did for me that day – what started out as a frightening experience turned out to be much better thanks to the wonderful team who accompanied me every step of the way."
"And fortunately my problem was not heart related, but turned out to be a hernia!"
Recently, Wayne and Lyn Norwood's family donated two brand new ambulances to Wellington Free. Wayne Norwood is the Patron of Wellington Free Ambulance, continuing the legacy left by his grandfather, Sir Charles Norwood, the man who founded our service back in November 1927. The Norwood family's recent donation is a very generous symbol of their extraordinary, long-term commitment to our community.
Each year we have to add around 8 new vehicles to our fleet to ensure we can continue to be there for our community. These vehicles are state of the art and get our crews to where we need to be to do the work we need to do.


If you are interested in finding out more about donating an ambulance or donating in any way to help keep Wellington Free Ambulance free of charge for the people of Greater Wellington and Wairarapa, please contact Claire Carruthers, General Manager Fundraising and Communications, at [email protected]