About Us
We are the only emergency ambulance service in greater Wellington and the Wairarapa, and the only ones in the country who are free.
Get Involved
We are the only emergency ambulance service in greater Wellington and the Wairarapa, and the only ones in the country who are free.
What we do
Our news
Meet Graduate Paramedic Callista
Meet Graduate Paramedic Callista

03 April 2023
Meet Graduate Paramedic Callista
Callista has always had a particular interest in working in the medical field.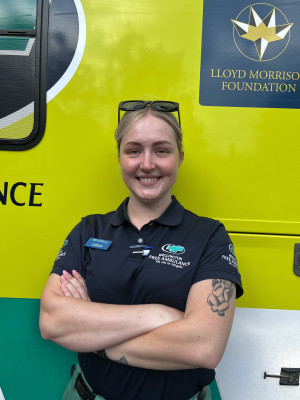 "Although I tried other avenues such as corporate, I always knew deep down I needed something that would challenge my brain and provide more variety. In my time as a lifeguard, I was exposed to numerous incidents which required first aid. One of the times that stuck out to me was when we had to call an ambulance for an injury. I remember the crew asking me to give them a hand with the patient. At that moment, I knew this was a role I could 100% see myself in."
The pandemic meant that studying for the Bachelor of Health Science at Whitireia looked a lot different. But being a part of Wellington Free Ambulance's Operational Support Team (designed to give our team additional support on the road in times of pressure) provided Callista with invaluable experience.
"The slight global hiccup meant online zoom sessions made it difficult to engage and create a routine. Having our student placements canceled in our first year was rough. But in my final year of study, they introduced the Operational Support Team as part of the Covid-19 response. I was able to make up for lost time and familiarise myself with the other components of the job aside from patient care, this role was also good for gaining further exposure and meeting the team. It was awesome to apply my knowledge I had obtained during my study, and incorporate that on the road as well," she says.
Callista will never forget the call she received telling her she was going to be a graduate paramedic at Wellington Fee.
"I was absolutely chuffed. I remember having to pull over as I was driving when I got the phone call and when I got the news. I felt both relieved and nervous. I knew I had to get through my final stretch of uni, then all the hard work leading to that point would have paid off."
There were several things that drew Callista to work at Wellington Free. Mostly the crews and the patients. Callista also feels very proud to be working for the only free ambulance service in the country.
"I respect that we can provide the best quality of care for the patients in our community free of charge. I believe it can make a world of a difference to the families experiencing hardship for their loved ones," she explains.
"The consistent professionalism I have seen role modeled through the paramedics that I have worked with has played a major role in helping me to develop my practice. Along with the incredible mentorship I experienced as a student, which played a pivotal role in my decision to work for WFA. I was fortunate enough to work with the same crews on my student placement. They helped shaped me into the person I am today and how I practice on the road. I wanted to be a part of that, and here I am today."
Are you interested in joining the Wellington Free Ambulance whānau? Find out more about different opportunities with us here.