About Us
We are the only emergency ambulance service in greater Wellington and the Wairarapa, and the only ones in the country who are free.
Get Involved
We are the only emergency ambulance service in greater Wellington and the Wairarapa, and the only ones in the country who are free.
What we do
Our news
Meet Paramedic Kirsty
Meet Paramedic Kirsty

08 May 2023
Meet Paramedic Kirsty
With New Zealand Sign Language Week taking place, we'd love you to meet Paramedic Kirsty. She's been with Wellington Free Ambulance since 2019, and loves to cook, bush walk and go to the gym in her spare time. She's a mother to her 10-year-old daughter, her cat and very recently became a dog-mum. Kirsty is also hearing impaired and conversant in New Zealand Sign Language (NZSL).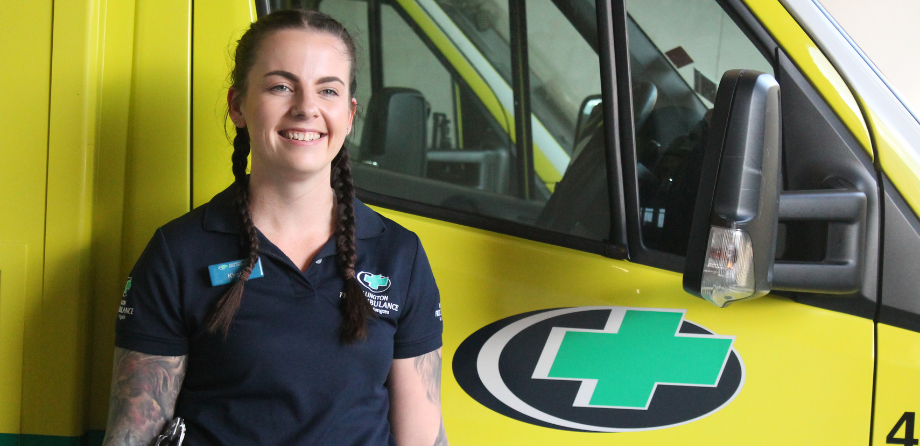 Working as a paramedic while hearing impaired
Nine years ago, Kirsty was diagnosed with moderate hearing loss in both ears to low-pitched sounds, known as moderate bilateral sensorineural hearing loss at low frequencies.
"My hearing loss is opposite to what most people experience (high frequency loss) and is therefore slightly more difficult to treat. At the time of diagnosis, my hearing appeared to be deteriorating quickly. I do wear hearing aids in both ears, and I wanted to still be able to communicate if I lost my hearing completely," Kirsty explains.
This is ultimately what pushed Kirsty to learning NZSL. Thankfully, deterioration has slowed and now Kirsty is fully equipped with another language under her toolbelt. However, it's not without its struggles.
"My biggest challenges are speaking to people with deep or low voices, but my hearing aids help with this," she says. However, "I don't always wear my hearing aids because sometimes the world is too loud and overbearing and I need a bit of a break from hearing so many sounds that I'm not used to hearing all at once. It can get a bit overwhelming going from hearing poorly to hearing too much all at once!"
"The other struggle I found was working in healthcare during a pandemic and masks being mandated. I rely somewhat on lip-reading to fill in the blanks that I may have missed with my hearing, and I really struggled to adjust to speaking to everyone wearing masks. Over time I have gotten used to it and I find it less difficult now."
"I also have a digital stethoscope that I use on the road. I can change the volume and the frequency on it which allows me to listen to patient's lung sounds in a way that I can best hear them."
Communication and care while dealing with members of the deaf community
Kirsty has cared for multiple deaf patients during her time at Wellington Free Ambulance, and while she was a student at Te Pukenga Whitireia. There is one incident that will always stick with her.
"When I was a student, another crew requested driving assistance for a patient in a critical condition. I was part of the crew that assisted and when we arrived, we found that both the patient and his wife were deaf," she recalls.
"I was able to communicate with the wife to get some pertinent information to the crew that were providing patient care, whilst simultaneously providing some important updates to the wife about her husband's condition. Enroute to hospital I was able to communicate back and forth between the patient and the crew to ask questions, explain information and advise the patient of the interventions the crew were wanting to provide."
For members of the deaf community who need our services, Kirsty reminds our staff that the biggest consideration is that English is not their first language – NZSL is – and the two languages don't 100% translate into each other.
With every patient having the right to effective communication, to be fully informed, and to make an informed choice and give consent, this can pose its challenges. Exploring alternative communication options and asking for a patient's preferences are essential, Kirsty says.
These options include utilising hearing friends or family who know NZSL for translation purposes, and using different NZSL communication options and services, such as NZ Relay Service and the NZSL Dictionary App.
Together, we can make NZSL thrive – if you're interested in learning more, you can read more about NZSL Week on their website. There's also Learn NZSL, a free learning portal, where you can watch, learn and practise how to use NZSL in common situations with plenty of videos, resources and exercises to support you.