About Us
We are the only emergency ambulance service in greater Wellington and the Wairarapa, and the only ones in the country who are free.
Get Involved
We are the only emergency ambulance service in greater Wellington and the Wairarapa, and the only ones in the country who are free.
What we do
Our news
National Volunteer Week: Camille
National Volunteer Week: Camille

26 June 2021
Camille loves helping people and getting alongside her Wairarapa community; it's one of the reasons why she became a volunteer Event Medic at Wellington Free Ambulance.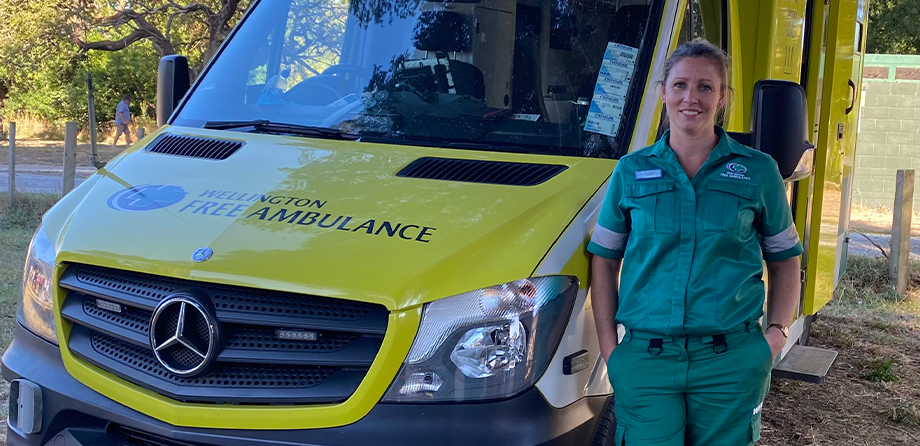 Our Event Medics are at the heart of our community work. They cover a variety of sporting and community events, concerts, and more every single week, and even back up our front line crews in emergencies.
This week we celebrate our incredible volunteers as part of National Volunteer Week 2021.
Being an Event Medic is one thing however, Camille also does a lot for her community. She's currently a board member of the local primary school and a local perinatal mental health organisation, and was previously involved with her church, running the children's ministry with her husband.
When asked what she gains from volunteering, Camille says: "Personally, it's the friends, joy and a sense of achievement and involvement. Professionally, it's experience, developmental opportunities and the chance to work alongside great professionals."
Camille started volunteering when her youngest child started kindergarten.
"For me, it was a really great way for me to venture out of that mummy stage of life and do something for me.
"Wellington Free has been really amazing to volunteer for! I've learnt so much, and they continue to encourage us to learn more. Everyone is also so kind and helpful! It's a whole new world with them and I feel so privileged to be part of the organisation."
"Wellington Free doesn't just teach you how to save a life, they also teach you how to care for our community, how to identify and communicate with those who need a helping hand and how to treat and care for everyone."
Camille says if you've ever thought about volunteering in your community, now is definitely the time.
"Being in the midst of people who are struggling and hurting, I understand the great need for everyone to rally together and help one another out! Life isn't about making money and what you can get from it, but what you can give back.
"Most people don't understand that the most joy in life actually comes from giving. There are so many amazing organisations out there that just want to help people, and really need people with a big heart to be a part of their vision.
"All you have to do is find one that matches your passion and get in touch with them. Wellington Free was one of my choices," she says.
Camille explains that we're lucky to have such a great service to depend on - Wellington Free being the free emergency ambulance service that are ready and waiting to help you when you need them.
"The time and energy they spend in up skilling us is testament to their passion, standards and level of care they provide. Passion is everything. Regardless of your walk of life, where you come from, how much money is in your bank account, you know you are safe with Wellington Free!"
Fancy joining Camille and the Event Medic team? If you're interested in volunteering with Wellington Free Ambulance you can find more on our volunteer page.
If you're keen to help your community, we would love to hear from you.