About Us
We are the only emergency ambulance service in greater Wellington and the Wairarapa, and the only ones in the country who are free.
Get Involved
We are the only emergency ambulance service in greater Wellington and the Wairarapa, and the only ones in the country who are free.
What we do
Our news
National Volunteer Week: Meg and Emma
National Volunteer Week: Meg and Emma

20 June 2021
For both Meg and Emma, being a Wellington Free Ambulance Event Medic has given them an arena to upskill and gain experience to aid their careers. Currently Meg is studying nursing, while Emma is studying paramedicine.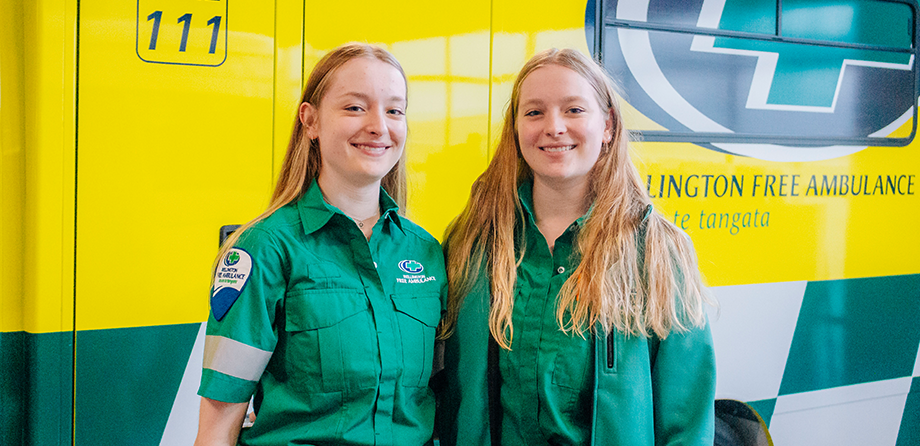 The duo explain that volunteering has allowed them to develop and improve their communication skills with patients and sometimes their families; something that's crucial when treating patients either in the hospital or in the pre-hospital setting.
It's also allowed them to gain a better understanding of their community, while being out and about caring for different people.
Our Event Medics are at the heart of our community work. They cover a variety of sporting and community events, concerts, and more every single week, and even back up our front line crews in emergencies.
This week we celebrate our incredible volunteers as part of National Volunteer Week 2021.
Meg and Emma say being part of Wellington Free Ambulance means a lot as it is a service that's used and needed by so many every day.
"I wanted to volunteer to get out into the community and be able to provide help to those who need it," Emma explains. "As well as learning new skills that are relevant to my study meaning I can get more first-hand experience with patients, while growing my knowledge and practicing my skills."
Meg was motivated to volunteer so she could give back to the community. "I also wanted to volunteer to gain a greater understanding of frontline medical care in order to have a better idea of what is involved and how this differs from hospital care."
The best thing about volunteering is the gained experience and ability to help people when they need it, both Meg and Emma explain.
Some of their most memorable moments so far have been getting to know more people and creating friendships within the medical profession, as well as realising how beneficial it is to our study.
"I have only been volunteering for a short amount of time, as I started early this year and I found it challenging to go from learning about how to treat patients and then actually treating them as I was the one making decisions for the patient, but I also learnt that with time and volunteering often this becomes less challenging and more rewarding."
"A highlight has been realising how much I have learnt through the role and the ability to use it when treating patients and the knowledge I have gained from people I have worked with."
"I also started volunteering earlier this year. A highlight of volunteering has been the confidence that I have gained through the training process and to see how much I have grown in a short amount of time, as well as the relationships that I have formed," Meg says.
Wellington Free are incredibly supportive of their volunteers.
"Everyone is approachable and happy to help; they're also happy to answer any questions that we have. Wellington Free have continuously supported us in gaining the skills and knowledge that we need to provide effective care when out in the community at events."
When asked why people should volunteer in their communities, Meg says: "It allows you to gain new skills and experience things you wouldn't normally experience in your everyday life; as well as helping out the community around you, having fun and meeting new people."
Fancy joining Meg and Emma on the Event Medic team? If you're interested in volunteering with Wellington Free Ambulance can find more on our volunteer page.
If you're keen to help your community, we would love to hear from you.